Leaked benchmarks tease Radeon R9 390X against Titan X, GTX 980 Ti
The latest leaked benchmarks tease the battle between the AMD Radeon R9 390X, and the NVIDIA GeForce GTX Titan X, and GeForce GTX 980 Ti.

Published Sat, Mar 14 2015 6:39 PM CDT
|
Updated Tue, Nov 3 2020 12:09 PM CST
We've only been introduced to the GeForce GTX Titan X, but now we're hearing about the GeForce GTX 980 Ti which will also reportedly be based on the GM200 core, but cut down. Not only that, in some leaked benchmarks both of those cards are being compared against the upcoming AMD Radeon R9 390X.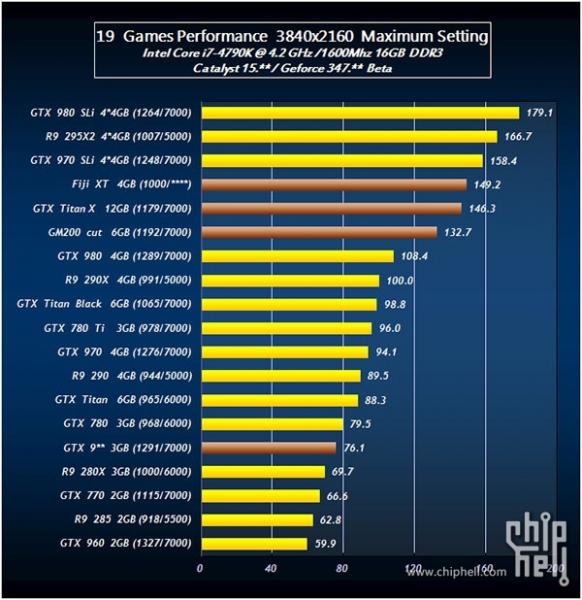 According to the benchmarks, the new Radeon R9 390X looks like quite the force to be reckoned with at 4K, where it beats the R9 290X by 49%. It even beats the new Titan X and the cut down GM200 or GTX 980 Ti. Keep in mind that the above benchmarks are not in FPS, but in relative % to the Radeon R9 290X. We also have an unreleased GTX 96* GPU (GTX 965 or GTX 960 Ti) that you'll find lower on that list.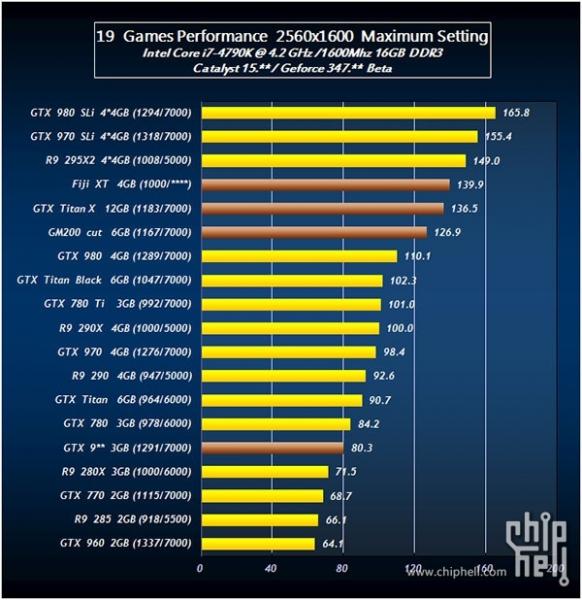 The same can be said for 2560x1600, where the Fiji-based R9 390X continues to dominate with a 40% jump on the R9 290X. It beats the Titan X by 3%, and the GM200-based GTX 980 Ti by just over 10%. But what about one of the more important aspects of the new architecture: power consumption? This is where, according to the leaked benchmarks, it looks like AMD has done something incredible: increased the horsepower of the 390X over the 290X, but kept to the same TDP.
Where the R9 290X uses 292W under Metro: Last Light at 2560x1600, the new Fiji-based R9 390X uses 289W. This is actually quite good, and while it is nowhere near as low as Maxwell-based GeForce GTX 980 with its super-low 184W of power consumption, it is providing more performance than that chip. We should see AMD reveal the new Fiji-based Radeon R9 390X before Computex, which kicks off in early June.
Related Tags