NVIDIA's GeForce GTX Titan X is right around the corner, so it's time for AMD to come stomping on its parade with a new FreeSync-capable driver. We're sad it's not the Radeon R9 390X, but this will do until then.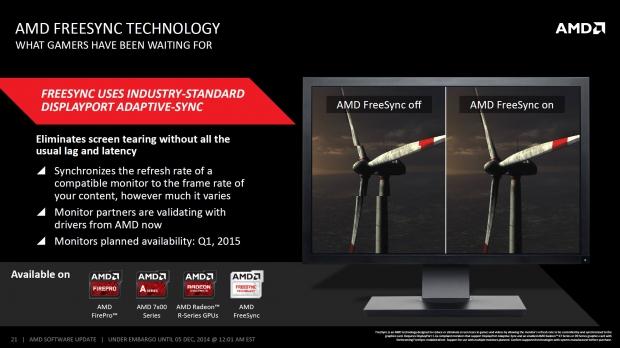 AMD is seeing FreeSync monitors in multiple regions so far, with the company talking about its FreeSync drivers coming on March 19 recently. AMD said: "AMD is very excited that monitors compatible with AMD FreeSync technology are now available in select regions in EMEA (Europe, Middle East and Africa). We know gamers are excited to bring home an incredibly smooth and tearing-free PC gaming experience powered by AMD Radeon GPUs and AMD A-Series APUs. We're pleased to announce that a compatible AMD Catalyst graphics driver to enable AMD FreeSync technology for single-GPU configurations will be publicly available on AMD.com starting March 19, 2015. Support for AMD CrossFire configurations will be available the following month in April 2015".
This is great to see, as it means that NVIDIA has competition against its G-Sync module and G-Sync powered monitors that are on the market. AMD has plenty of monitors coming out this year with FreeSync baked in, with sizes between a 34-inch ultrawide monitor from LG (which we have on the way), right up to 4K, and back down to 1440p and 1080p, giving gamers and consumers plenty to choose from.