Galaxy simulation dataset system runs 7680x4320, or 8K at 60FPS
7680x4320 at 60FPS, a huge 8K being run off of relatively modest PCs.

Published Sun, Feb 22 2015 11:59 PM CST
|
Updated Tue, Nov 3 2020 12:09 PM CST
Researchers have used custom built PCs to display a galaxy simulation dataset at 7680x4320, or 8K. This mammoth display set up was pushing out 128 million particles across the 16 displays.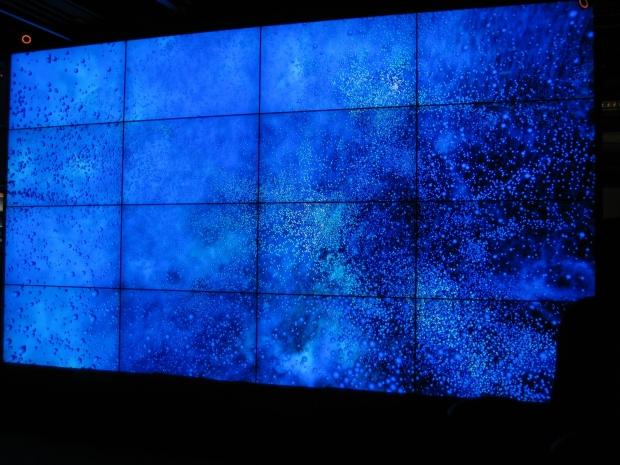 As for the PCs, they were running an Intel Core i7-980X, ASUS P6T motherboard, 6GB of Corsair Dominator GT 2000MHz DDR3 RAM, NVIDIA GeForce GTX 480 video cards, and 1 and 10GbE network connectivity. The team used 55-inch digital signage (1080p displays) with 7mm combined bezel. When it comes to software, the researchers use cgIX that "synchronizes the user input and drawing loop across all of the machines. On top of that is a custom application I developed that does out-of-core particle and volume rendering". Multiple computers are driving the 16 displays, where at any given time there were 4, 8 or 16 computers driving the displays.
What was the insane 8K set up of displays used for? The researcher explained on Reddit: "To support high-resolution visualization of large-scale particle datasets. Specifically, enabling the human visualization system to continue be used as an interrogation tool as the size of simulation datasets grows. Without these types of high resolution displays, it would become impractical to actually look at datasets that grow beyond the giga-scale because you simply couldn't get anything rendered on a single display screen that captures both detail and scale".
Related Tags