EVGA unveils the GTX 980 KINGPIN ACX 2.0+ with 2.2GHz GPU core on LN2
EVGA announces the insane GeForce GTX 980 KINGPIN ACX video card, with a 2.2GHz core and 8.9GHz RAM.

Published Mon, Feb 2 2015 5:12 PM CST
|
Updated Tue, Nov 3 2020 12:10 PM CST
We've been hearing the rumbles of an insane video card from EVGA for quite a while now, but here it is: the EVGA GeForce GTX 980 KINGPIN ACX 2.0. From the name alone, you can see that this is the top tier Maxwell-powered GTX 980 from NVIDIA, but the entire package is going to blow you away.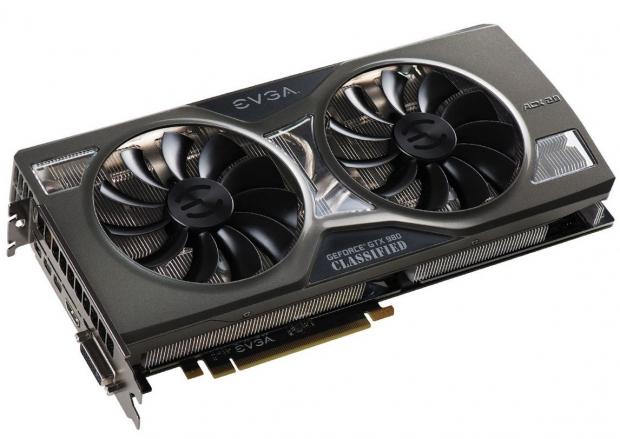 First and foremost, we have a custom designed PCB which has been tailor made to push things right to their breaking points. Under LN2, the new EVGA GeForce GTX 980 KINGPIN ACX 2.0 was capable of an insane 2.2GHz GPU clock, and 8.9GHz on the memory. Comparing this to the stock speeds of 1291MHz for the GPU and 7GHz for the GDDR5 RAM, this is an impressive result for EVGA and KINGPIN. The custom designed PCB is showing its strength here, but it'll be more interesting to see what it does with its ACX 2.0+ cooler.
Speaking of the custom designed PCB, we have a 14+3 Fully Digital VRM which will increase the stability, efficiency and the overall power capacity of the board, all while it runs at low temperatures of an average of 28C. The custom designed PCB has been made from 12 layers of copper, with two 8-pin PCIe power connectors backed up by a third, 6-pin PCIe power connector. All of this power will ensure that the EVGA GeForce GTX 980 KINGPIN ACX 2.0 has enough power when it is receiving a total thrashing in the overclocking department.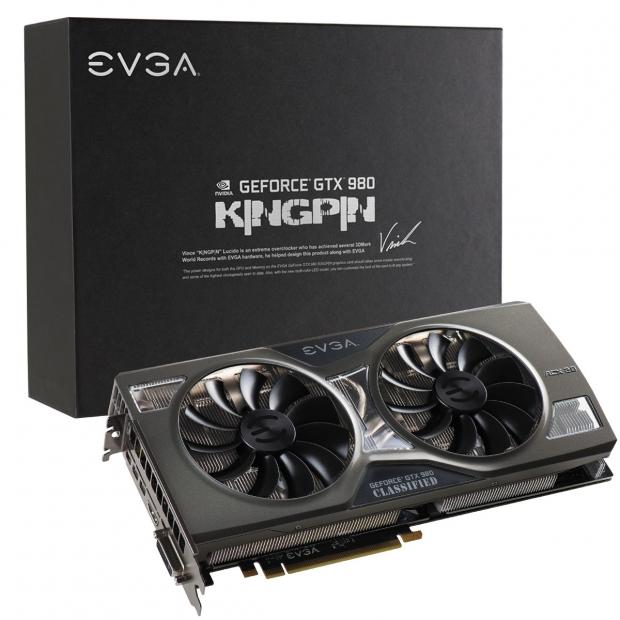 The entire PCB includes a RAM and MOSFET cooling plate which provides direct contact with the respective components in order to reduce the temperature, as well as two stacks of the cooling plate for each component that allows for much easier access to improved cooling through watercooling, or LN2. The card comes with a triple BIOS design for normal/OC/LN2, as well as an EVBot on-board connector that will allow for some even more personal tuning.
We have a card that comes in at 5.49 inches by, and 11 inches long. It is only a 2-slot card, so 4-way SLI is definitely something that can be achieved using the new video card. The stock ACX 2.0+ cooler is impressive, something we loved on the GeForce GTX 960 SuperSSC ACX 2.0+ we reviewed not too long ago. As for price, EVGA is offering up pre-orders in the US of $749.99.
Related Tags