Hackers attack Twitter accounts, state World War III is happening
Hacked Twitter accounts of NY Post, UPI state World War III has been declared by the Pope.

Published Fri, Jan 16 2015 11:08 PM CST
|
Updated Tue, Nov 3 2020 12:10 PM CST
Some hackers broke into the Twitter accounts of the New York Post and the United Press International, where they said that World War III had been declared by the Pope and that the United States and China were engaged in a serious military battle.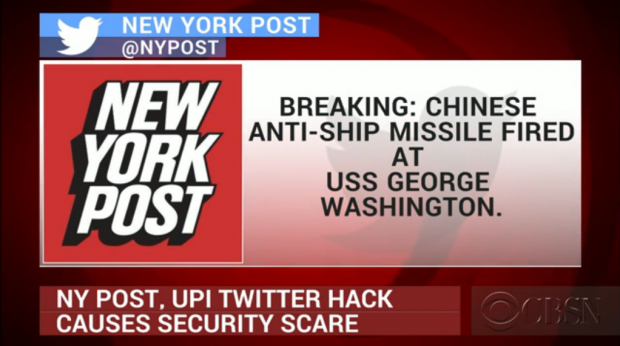 This was obviously a hoax, with both the UPI and New York Post stating their respective Twitter feeds had been hacked by 1PM on Friday, just as US President Barack Obama and UK Prime Minister David Cameron addressed the media about the concerns of cyber security, and the fact they need to increase their online defenses.
The news organizations' Twitter feeds were throwing out some really huge statements, saying that China condemning President Obama's "pivot to Asia" before firing on, and damaging the USS George Washington, which is an American aircraft carrier based in the Pacific. The hacked feeds were also spouting that the US were engaged in "active combat" against China in the South China Sea. One of the tweets read: "US Joint Chief of staff: USS George Washington damaged, US navy now engaged in active combat against Chinese vessels in South China sea". Another tweet said "JUST IN: Xi Jinping: Obama 'condemned' for Asia pivot, 'has forced China to protect its interests through military means".
The UPI had something a little different to say when their account was hacked, stating that Pope Francis had declared "World War III has begun". Quickly after they were posted, the tweets were deleted, with both news organizations acknowledging they had been hacked. Financial markets weren't affected thankfully, but the Navy did come out with a statement confirming that the USS George Washington had not been attacked. Spokesman for House Armed Services committee, John Noonan, said: "Give the hackers this much credit, the George Washington is our permanent Pacific based carrier. They at least did their homework".
Related Tags