Featuring beastly internals such as an Intel i7-5960X Haswell-E 8 Core paired with two MSI GTX 980's in SLI and a casual 32GB of RAM, Jjsky500 PC Mods has gone all out on this build and custom chassis design, even managing to fit a complete watercooling loop within.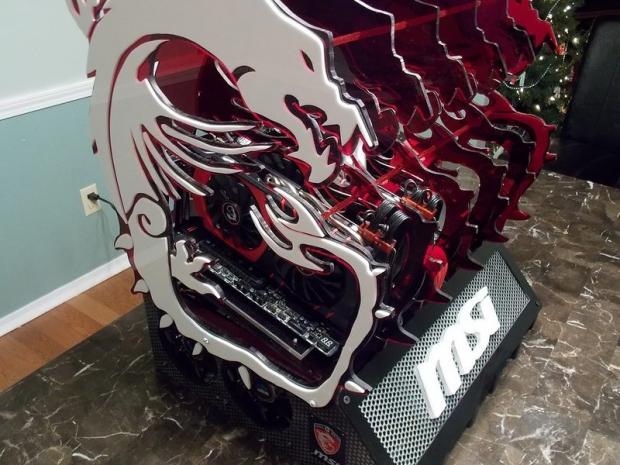 Complete with a nice red LED lighting theme, this custom chassis features six MSI dragon cut-outs to really give it the whole MSI feel. Currently in a bunch of different "best of CES" articles, this case is certainly a stunner and something a little different than we're used to seeing here at TweakTown.
As for a complete components list, this system contains:
CPU: Intel i7-5960X Haswell-E 8 Core
MOBOL MSI X99S GAMING 9 ACK
VGA: 2x MSI GTX 980 GAMING 4G
RAM: Kingston HyperX Predator DDR4 32GB Memory
SSD: Kingston HyperX 240GB SSD
PSU: Lepa 1000watts (Enermax Vegas Fans)
COOL: Bitspower Rez/Pump combo and radiator
We'll be covering more of Jjsky5000's mods in the near future. This relatively unknown modder has some different and out-there builds like this Batman model and a complete Lenovo ice chassis.