Radeon R9 390X should be announced soon, will have 300W TDP
AMD edges closer to the announcement of the new R9 300 series, which should pull 300W and use HBM (High-Bandwidth Memory) and much more.

Published Tue, Jan 13 2015 4:21 PM CST
|
Updated Tue, Nov 3 2020 12:10 PM CST
If there anyone who likes GPU rumors, it's me. The latest reports are suggesting that AMD might make a huge leap with its new Radeon R9 300 series, which should make use of the new High Bandwidth Memory (HBM), but more interestingly, it is based on a 2.5D design, and will use up to 300W of power.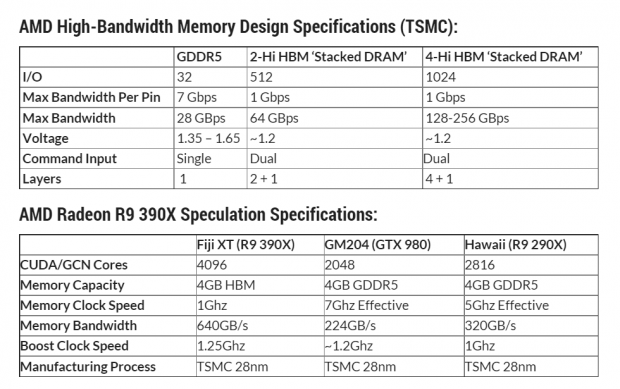 The news is coming from the LinkedIn profile of Linglan Zhang, who is currently employed by AMD as the System Architecture Manager. His profile lists that he is working on a new GPU SOC chip that uses the 2.5D design, and rocks a TDP of 300W. We should expect the new GPUs from AMD to be made on the 28nm architecture, since the 16nm and 20nm die shrinks are now at least six months or more away - from both AMD, and NVIDIA.
Comparing GDDR5 against HBM is something that people need to start really looking at, as the I/O per chip on GDDR5 is just 32-bit, while the 4-Hi HBM 'Stacked DRAM' pumps things up to a huge 1024-bit. Max bandwidth per min on GDDR5 is just 7Gbps, while HBM sits at 1GBps. The max bandwidth of GDDR5 sits at 28Gbps, while the HBM technology can scale between 64Gbps and 256Gbps.
When can we expect the new Radeon R9 390X and R9 380X? Well, the reports state that AMD is already taping out the new R9 380X, which means we could see GPUs in consumers' hands in the coming weeks, so we might see AMD unleash these new cards before NVIDIA kicks off its GPU Technology Conference in March, where we might see something unveiled - last year, we saw the GeForce GTX Titan Z for example. Whatever happens, it's exciting times in the world of GPUs, that's for sure.
Related Tags