CES 2015 - Other World Computing (OWC) has just announced the release of their Aura SSD upgrade for any 2013 Mac Pro and a self-made OWC Thunderbolt 2 Dock system.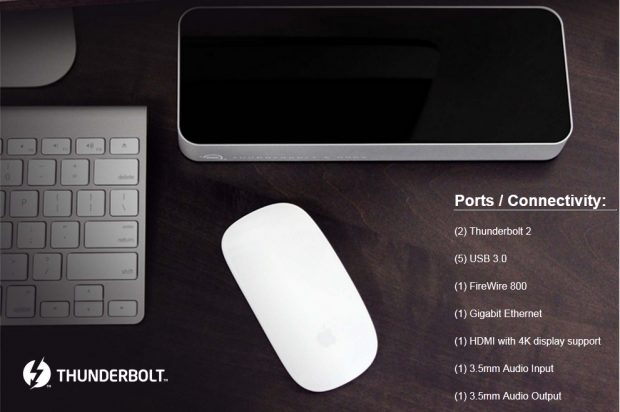 As one of the very few companies offering upgrades, advanced technology and support for Apple products, OWC's Aura SSD upgrade has been custom-engineered to deliver consumers a much higher capacity and performance than seen with the production release models. Available in 1TB and 2TB packages, expect the 1TB to set you back $899 and its big brother will cost you a whopping $1479.
It's certainly not cheap, but that's what you get when you go down the Apple Mac route - so you should expect it by now. These kits come with all tools needed for a DIY upgrade, with a step-by-step installation video provided alongside U.S-based 24/7 technical support. If you are to compare this price to a general PC offering, you can expect a 1TB SSD to set you back around $470 when purchased through Amazon.
The other product showcased here is OWC's Thunderbolt 2 Dock, seeing support for up to 77 devices under this one single unit. Using a single Thunderbolt cable, users have the ability to:
Daisy-chain up to five additional Thunderbolt devices

Connect up to five high-powered USB 3.0 devices, including dual side-mounted ports, perfect for charging and syncing iPhone, iPad, and supporting bus-powered devices

Connect via one Gigabit Ethernet

Daisy-chain up to 63 devices via FireWire

Connect one Audio / Mic Line in

Connect one Audio / Line out

Add a dazzling Ultra HD 4K display, two 27-inch cinema displays, or even one 4K display and one standard definition display via one HDMI / 4K port
The cable-less version of this product will be released for $249 or you can pay $279 to have a 1 meter cable included. Both products are avaialble now for pre-order from their Macsales online portal.