SATA-IO displays 8TB HGST Ultrastar He8 at Storage Visions 2015
SATA-IO displays the 8TB HGST He8 at Storage Visions.
Published Sun, Jan 4 2015 5:05 PM CST
|
Updated Tue, Nov 3 2020 12:11 PM CST
Storage Visions 2015 - At the SATA-IO booth at Storage Visions an HGST Ultrastar He8 HDD is on display. The new high capacity drives from HGST are utilizing helium, with their HelioSeal technology, to reduce air resistance and vibration. This allows them to cram more platters into the standard 3.5" form factor. The He8 features the same 7stac architecture as its predecessor, the Ultrastar He6 (review here). This architecture utilizes 7 platters and 14 heads.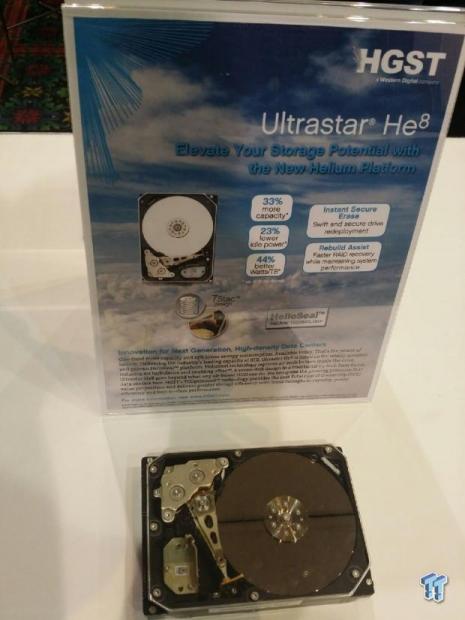 The net benefit is 33% more capacity with a decrease of 23% for idle power consumption. The He8 also offers 44% better Watts per TB. The drives also feature Instant Secure Erase for security and Rebuild Assist to speed RAID recovery tasks.
Related Tags