Chevrolet have made a 4K UHD monitor wall spanning 240 square feet
Chevrolet implement a massive screen to view, alter and tweak their upcoming car designs - the whole ordeal takes five people just to operate.
Published Fri, Jan 2 2015 10:34 AM CST
|
Updated Tue, Nov 3 2020 12:11 PM CST
Used for displaying in-design automobile models, Chevrolet's affectionately named "Power Wall" consists of a 240 square-foot, read projected glass screen matched up with two Christie Mirage 4K25 DLP3D projectors - creating a 2D or 3D image for viewing.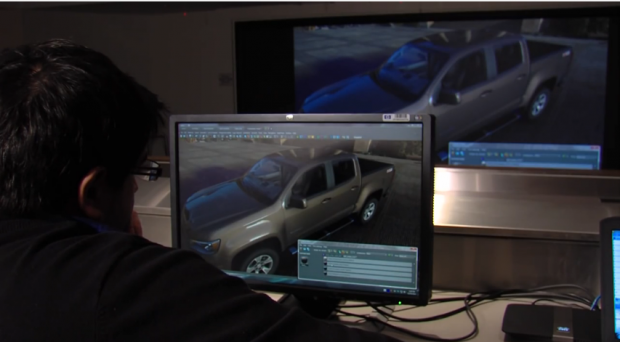 In previous years, car manufacturers would build their carve their upcoming models out of wood or clay, sometimes even constructing a metal object - now it's simply beamed onto this massive wall for all to see quickly and easily. The images displayed on this screen are rendered thanks to eight workstations, of which are assisted by two external video processors - this whole ordeal requires five people to operate the beast, consisting of three visualization specialists, an IT technician and a Christie hardware engineer.
Joe Guzman is Chevrolet's group manager for Global Virtual Design Process & Operations, in a press statement he said "that's the beauty of this kind of high definition. Using the maths data, we can render the vehicle as the customer will see it in the 'as manufactured state. Designers and engineers can then scrutinize every detail to make sure they are spot on."
Guzman made further comment that this new technology doesn't completely replace physical models in this industry, stating that it may be some years before it takes over completely.
The future of modelling technology makes me picture something similar to a Star Wars hologram, but with more detail - nothing would be easier than an electronic model you can alter, spin and enlarge by hand in person and 3D nature.
Related Tags