QLogic joins NVM Express initiative as NVMe Over Fibre spec emerges
QLogic enters the NVM Express organization, perhaps spurring faster NVMe Over Fiber development.
Published Wed, Dec 3 2014 12:04 PM CST
|
Updated Tue, Nov 3 2020 12:12 PM CST
NVM Express, or NVMe, is an optimized interface designed specifically for non-volatile memories, such as flash. As detailed in our Defining NVMe article, NVMe offers unparalleled performance over the PCIe bus. The NVMe specification lays the groundwork for the base technology, but complementary technologies are entering development to further enhance its capabilities. One particularly promising specification is the NVMe Over Fiber standard. This allows for end-to-end NVMe over Infiniband, Ethernet with RDMA, and Intel's Omni Scale Fabric.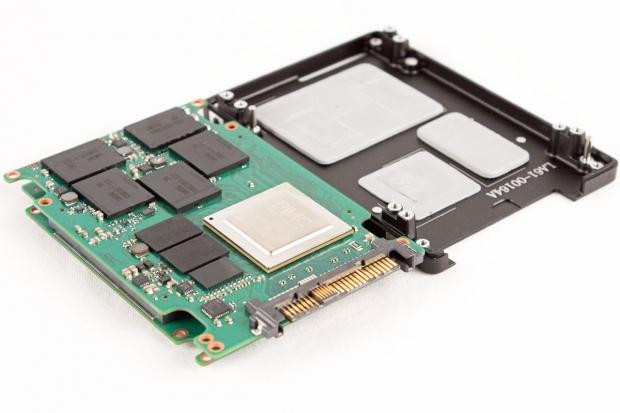 Flash has long been confined inside the server in DAS (Direct Attached Storage) configurations. This keeps the SSD as close to the processor as possible, and eliminates network latency. NVMe Over Fibre offers refined performance by removing the SCSI translation layer, which adds latency when communicating over the network. According to recent surveys, network congestion is the most pressing issue for IT professionals. The NVMe Over Fibre standard will refine communication between clusters, and SSDs can be addressed from remote servers as if the PCIe SSD were plugged directly into the server. Qlogic is one of the leading suppliers of server networking products, and their entrance into the NVM Express consortium will likely speed development and adoption of NVMe Over Fibre as well.
SAN and NAS deployments are falling out of favor in the datacenter, and there is a move to VSAN and other server-SAN implementations. Much of this migration to DAS configurations is prompted by latency-inducing network protocols. Unadulterated NVMe SSD performance over the network will surely have administrators salivating as it moves closer to market, and could yet again alter high-performance storage deployments in the datacenter.
Related Tags