Seagate releases new 6TB NAS HDD for 4-16 bay NAS units
Seagate's new Enterprise NAS HDD offers a faster speed of 7,200 RPM and up to 6TB of capacity.
Published Tue, Dec 2 2014 12:16 PM CST
|
Updated Tue, Nov 3 2020 12:12 PM CST
Seagate has announced the release of a new HDD aimed at 4 to 16 bay enterprise NAS deployments. The stratification of the NAS market has led to varying HDD products to address the different workloads and performance requirements of each segment. The new Seagate enterprise NAS HDD bumps speed up a notch. Typical consumer NAS models spin at 5,400 RPM, but the new Seagate NAS HDD moves up to 7,200 RPM. WD has already released the WD Red Pro, a 7,200 RPM product, to address larger NAS arrays, as outlined in our WD Red Pro 4TB Enterprise NAS HDD Review.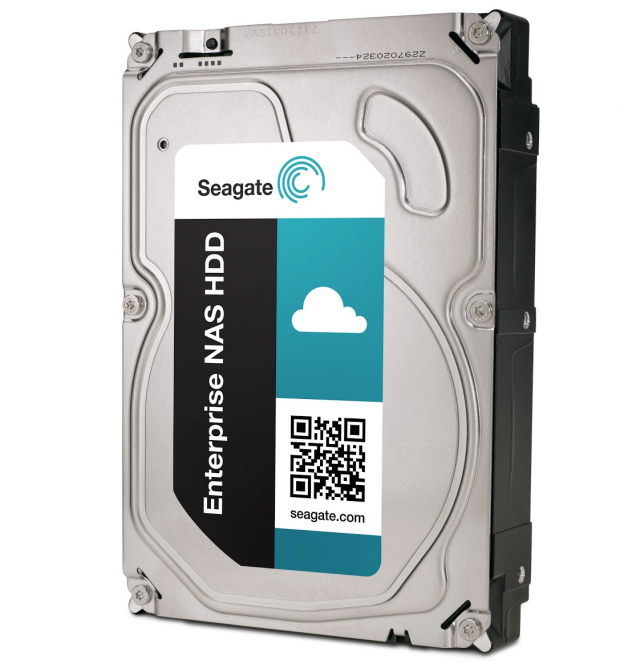 The WD Red Pro tops out at 4TB, but the Seagate Enterprise NAS HDD comes in 2, 3, 4, 5, and 6TB flavors and features Seagate's NASWorks firmware. NASWorks specifically tailors the drive for NAS usage. The drive also features RAID rebuild technology that supports surgical rebuilds to significantly reduce RAID rebuild time. The drive also features a larger 128MB cache in comparison to the WD Red's 64MB, and a faster transfer speed of 216 MB/s. An optional data recovery service also offers users easy data recovery in the event of a drive failure.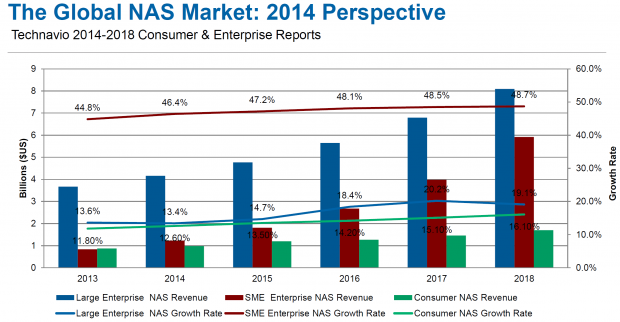 The burgeoning NAS market is fueling the rapid expansion of NAS HDD offerings. The SME, SMB, and SME tower and rackmount segment is one of the fastest growing segments, and manufacturers are providing solutions refined for each environment.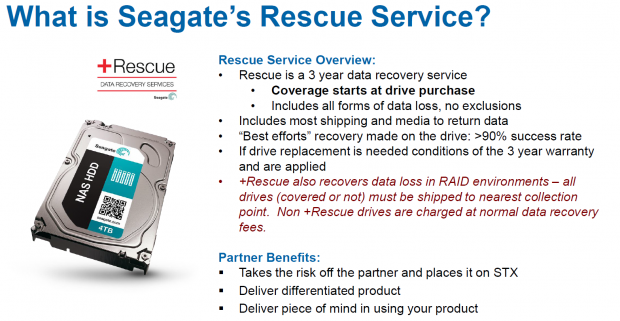 Seagate is also offering their Rescue Service for Enterprise NAS HDDs. The plan covers the drive for three years and provides data recovery services for any drive failures, even in the event of user error. This plan is extended out to RAID arrays as well. This service typically has a 90% success rate, and even covers shipping costs. Seagate obviously has a high amount of trust in the new product to warranty drive recovery, and the Enterprise NAS HDD features a 1.2 million hour MTBF. The drive is also rated for an 180TB a year workload. There is an additional charge of $39.99 for the rescue service.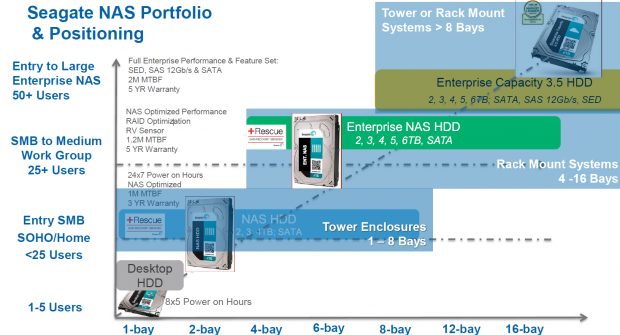 The Enterprise NAS HDD addresses the need for a middle-range NAS HDD offering with enhanced performance. Seagate's NAS HDDs are qualified for use in a wide range of NAS products.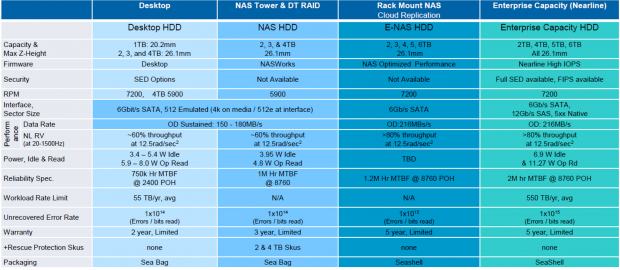 The Seagate Enterprise NAS HDD offers more performance than their consumer-oriented NAS product, covered in our Seagate NAS 4TB HDD Enterprise Review. The Seagate Enterprise NAS HDD is available now, and the 6TB model is retailing for $399.00.
Related Tags