AMD want their APUs in 2020 to feature 25x the energy efficiency
AMD wants some serious energy efficiency improvements in its APUs by 2020, hopes to have 25x more energy efficiency before the decade ends.

Published Sun, Nov 30 2014 4:03 AM CST
|
Updated Tue, Nov 3 2020 12:13 PM CST
AMD is hoping for some serious improvements in the energy efficiency of its APUs by 2020, where the chipmaker is aiming for a massive 25x improvement. In order to reach this goal, AMD will have to outpace historical energy efficiency by over 70%, but the company is optimistic that it can do this.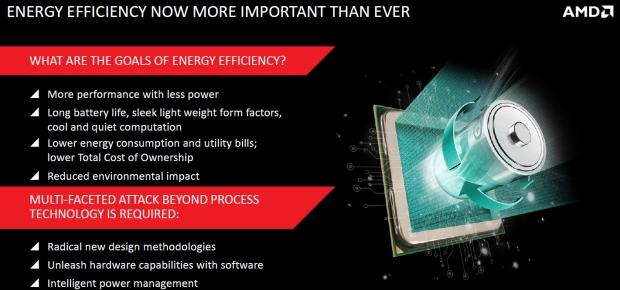 The company has goals in terms of energy efficiency, where it wants to have "more performance with less power", as well as "long battery life, sleek light weight form factors, cool and quiet computation" mixed with "lower energy consumption and utility bills, lower Total Cost of Ownership" and a "reduced environmental impact".
Using a comparison of a 35W notebook processor released this year, versus a 35W processor from two years ago, the new notebook processor is twice as fast. You can say that the energy efficiency has improved by 200% as well, but the older 35W processors no longer fit into notebooks. AMD needs to find a way to reduce power consumption, as well as increasing the performance of the processor. Up until now, we've seen Intel and AMD do one or the other, but not both to the extent of 200% leaps each time.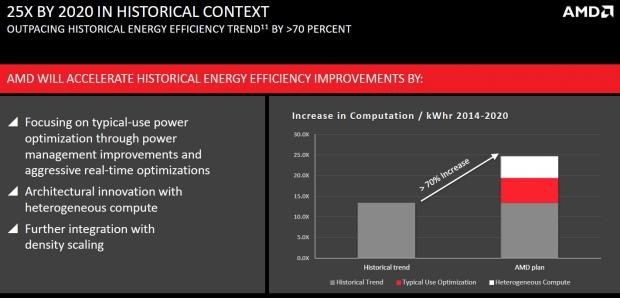 How will AMD outpace the historical energy efficiency of 70%? It says that it will be "focusing on typical-use power optimization through power management improvements and aggressive real-time optimizations", as well as "architectural innovation with heterogeneous compute" and finally, "further integration with density scaling".
It should be an exciting time for AMD fans between now and 2020.
Related Tags