Snoop Dogg to make an appearance in into DOTA 2
Popular online battle arena game Dota 2 may Feature Snoop Dogg's voice in the near future.
Published Fri, Nov 21 2014 4:35 AM CST
|
Updated Tue, Nov 3 2020 12:13 PM CST
Dota 2 is one of the big-hitters in the global eSports scene, seeing millions of dollars in prize money distributed each year in a massive once-off event named "The International", which is viewed live by hundreds of thousands of screaming fans around the globe.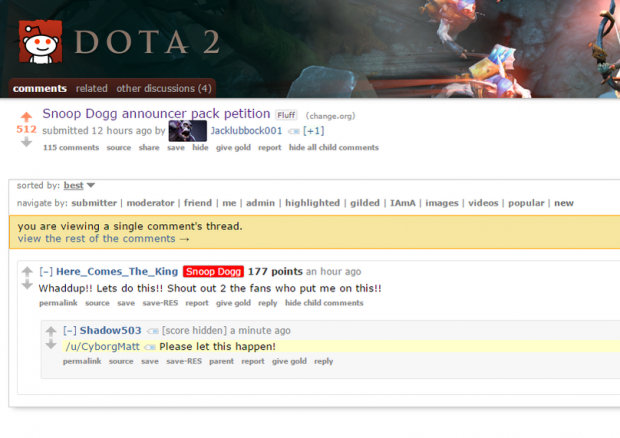 As amazing as this sounds, you can't forget the small things that make a game worth playing. Dota 2 is well known for keeping in constant contact with its community members, providing support through community generated tournaments being published in their in-game client and even giving model developers the ability to sell their products officially through Valve services.
In comes the latest installment in Dota's lifespan - Snoop Dogg. If you're interested in a little variety in-game play, Dota2 allows players to change up their 'announcer' voice pack, meaning that all in-game announcements will come through a different voice than the official standard one supplied. Thanks to Snoop Dogg's popular involvement in meme culture, some savvy Dota 2 players decided to create a partition to get the Dogg in on this project, linking it back to Reddit.com's Dota2 section. Guess what, Snoop Dogg replied.
This information was made known to us through a well-known community member Matthew Bailey, more commonly known as "Cyborg Matt". Bailey is self described on his Twitter profile as "Dota 2's Master Patch Eviscerator" and is often seen providing in-depth analysis of Dota 2 patch release notes - being seen as a kingpin in the wider community.
Snizzle my nizzle, we can't wait until this becomes available - I've already begun throwing money at my monitor.
Related Tags