Ubisoft stock drops 9FPS, I mean 9% due to Assassin's Creed problems
Assassin's Creed: Unity problems are extending past gamers, causing a massive 9% drop in Ubisoft stock.

Published Thu, Nov 13 2014 8:40 PM CST
|
Updated Tue, Nov 3 2020 12:13 PM CST
It seems that my week has been busy with bashing at my keyboard writing up various articles about Ubisoft and Assassin's Creed: Unity, but it's for a good reason: the world needs to know what's going on, and this sh*t needs to stop. Gamers are able to walk away with their hard-earned money, and not purchased the game, but the company's just blame piracy when this happens.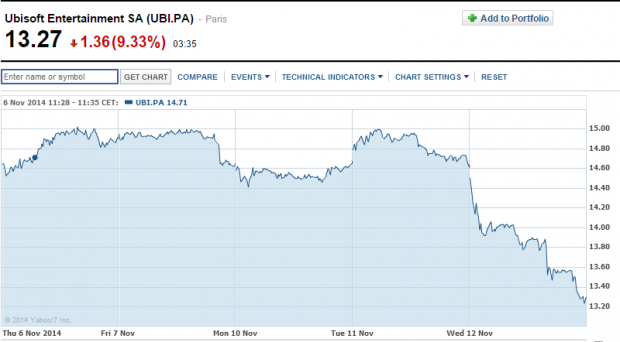 Well, Ubisoft might wake up when their stockholders start to notice sharp drops in their stock prices - with a massive 9% drop in Ubisoft stock after the launch of Assassin's Creed: Unity was met with a truck load of negative reactions and feedback across the world. We can see that the stock was alright up until the morning of Wednesday, 12th of November - and then it dropped harshly, just like the frame rate in Assassin's Creed: Unity.
Now we need to see if this will continue, or stabilize and return to norm. Gamers are pissed, and so are people like me, where I don't think Ubisoft should be able to get away with this. Promising something so grand, building Assassin's Creed: Unity from "the ground up" on next-gen consoles, and then launching the game - which was obviously not ready by any means - to gamers, at a very decent premium.
Related Tags