Alienware 13 notebook 'graphics amplifier' lets you use a desktop GPU
Alienware teases that its new Alienware 13 gaming notebook can use a desktop GPU with its new graphics amplifier dock.

Published Tue, Oct 28 2014 3:25 AM CDT
|
Updated Tue, Nov 3 2020 12:13 PM CST
Alienware announced its new Alienware 13 gaming notebook not too long ago, but has just taken the wraps off of its new "graphics amplifier". Alienware's new contraption is capable of taking a high-end desktop GPU, with anything that uses up to 375W, and plugging it into Alienware's proprietary PCI Express-based cable.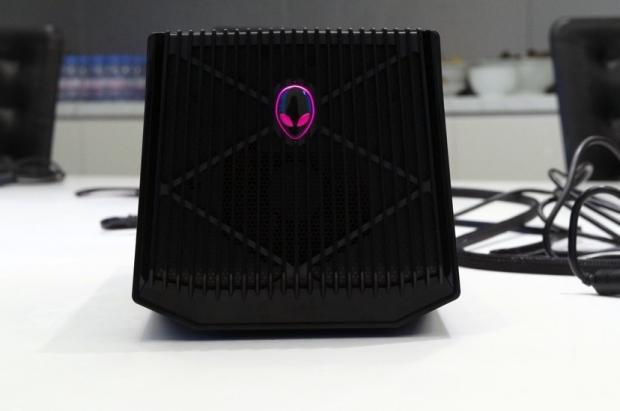 This proprietary cable only works on the Alienware 13 notebook, so you won't be using it with your normal gaming notebook. The graphics amplifier itself also includes four powered USB ports, so you can plug in any of your USB-based devices directly into it, as well as your desktop video card. Not only that, but the Alienware head on the front of it glows for a nice effect.
It won't sell like hotcakes, but for anyone who is in the market for a new gaming notebook, this might swing your decision toward Alienware. If you were in the market of buying a new Alienware 13 gaming notebook, this is a nice accessory if you wanted some serious grunt at your desk, and then rely on the built-in GPU when you're on the road, or at a LAN. Alienware will be selling the graphics amplifier for $300, and will be showing it off at PAX Australia later this week, where we will get a hands- and eyes-on with it.
Related Tags