GTA V on the PS4 runs at 1080p is a "game changer" for GTA V says OPM
According to OPM, Grand Theft Auto V on the PlayStation 4 will be running at 1080p, calls it a "game changer for GTA V"

Published Sat, Oct 25 2014 9:13 PM CDT
|
Updated Tue, Nov 3 2020 12:14 PM CST
We're weeks away from Grand Theft Auto V receiving its next-gen polish on the Xbox One and PS4, but we're not hearing anything about the rendering resolution of the game on the Xbox One and PS4... until now.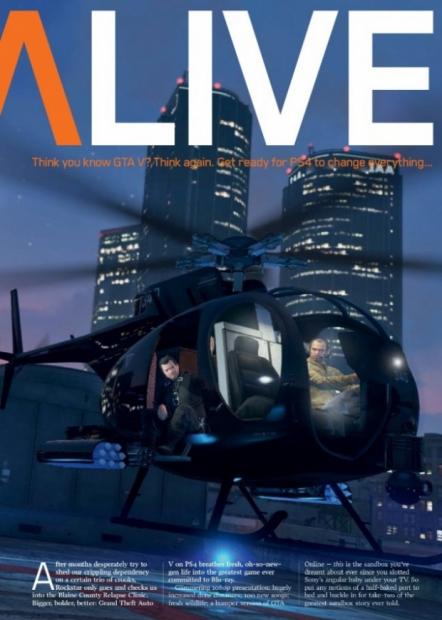 In the next issue of Official PlayStation Magazine, there will be a 10-page on the game, diving right into the world of GTA V on Sony's console. The cover has since leaked, showing scans of the feature and teasing that GTA V on the PS4 will be running at 1080p. OPM have some massive statements for the world about GTA V on the PS4, saying things like "Grand Theft Auto V on PlayStation 4 breathes fresh, oh-so-new-gen life into the greatest game ever committed to Blu-Ray", now I don't know about you, but that's a pretty big statement.
Better yet, OPM continues: "Farewell, 720p. You served your purpose adequately enough. Still, our eyes have been gagging for 1080p's pin-sharp pleasures and Los Santos sandbox is only too happy to oblige on PS4, running at a native 1920 x 1080 pixels. For a game erected on hundereds of tiny incidental details, the resolution bmp is a huge game changer for GTA V". The publication continues: "Glimmering 1080p presentation, hugely increased draw distance, 100 new songs, fresh wild-life, a bumper version of GTA Online, this is sandbox you've dreamt about ever since you slotted Sony's angular baby under your TV".
Grand Theft Auto V launches on both the Xbox One and PS4 on November 18, with the PC master race version arriving a couple of months later, on January 27, 2015 - because you know, we've got to allow console gamers to think 1080p at 30FPS is great, before PC gamers can crank it up to 4K and beyond, with frame rates that make 30FPS cry in the corner.
Related Tags