HTC unveils its Desire Eye smartphone, dual 13-megapixel cameras
HTC makes its Desire Eye official, features dual 13-megapixel cameras.

Published Thu, Oct 9 2014 4:15 AM CDT
|
Updated Tue, Nov 3 2020 12:14 PM CST
HTC has made its Desire Eye smartphone official, confirming that the best selfie-taking smartphone is now here, featuring dual 13-megapixel cameras. That's right, a 13-megapixel camera graces the rear, which isn't too special, but the 13-megapixel up front should have selfie-taking lovers opening their Eyes at this smartphone, geddit?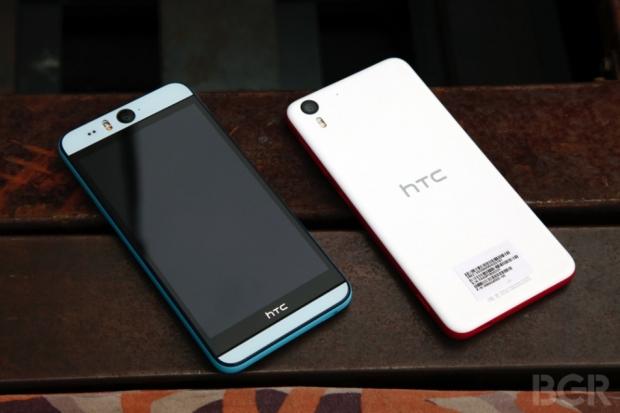 The new Desire Eye features a 5.2-inch Full HD display, 2.3GHz quad-core Snapdragon 801 processor, 2GB of RAM. 16GB of flash storage expandable by microSD, and then of course, the dual 13-megapixel cameras. Both of the 13-megapixel cameras feature wide-angle lenses, and dual-LED flashes. Stereo BoomSound speakers are found on the Desire Eye, three microphones, a 2,400mAh battery, and Android 4.4.4 KitKat.
HTC wasn't scared of the fact that the new Desire Eye is made from plastic, but it's not cheap according to BGR who attended the Double Exposure event. The site reports that "the Desire Eye has a smooth and sleek design that is surprisingly impressive. There are no seams despite the band of color that surrounds the perimeter of the handset, and it feels good in the hand despite its large size". One of the stand out features on the Desire Eye is the new camera software, which comes with six main add-ons which make the selfie-taking experience, well, better.
We have:
Auto Selfie: Captures a selfie when you're smiling and holding the camera still.

Split Capture: Takes front and back images or videos either simultaneously or sequentially, so you can compose each shot separately.

Crop-Me-In: This mode allows the user to capture a selfie and automatically remove the background. The the rear camera will take a photo and allow the user to crop him or herself into that image.

Face Fusion: This somewhat creepy but fun feature lets users capture photos of two different people and merge their facial features.

Video Chat Control: Automatic face tracking in video chat keeps users' faces at the center of each frame during video calls. This cool feature is accessible to third-party video chat apps, and screen sharing support has also been added to video chat.

Photo Booth: This captures a series of photos with a look that is similar to an old photo booth strip.
Related Tags