HGST offers new Ultrastar SN100 Series of NVMe PCIe SSDs
HGST tackles the NVMe specification with the new SN100 Series of PCIe SSDs.
Published Mon, Sep 15 2014 3:49 PM CDT
|
Updated Tue, Nov 3 2020 12:14 PM CST
HGST Press and Industry Analyst Briefing - HGST has announced a new line of PCIe SSDs for the datacenter with their Ultrastar SN100 Series. This new series of PCIe SSDs offers the new NVMe standard as the backbone for communication with the host system. For an in-depth look at the NVMe specification, from top to bottom with testing included, take a look at this recent article in our IT/Datacenter section.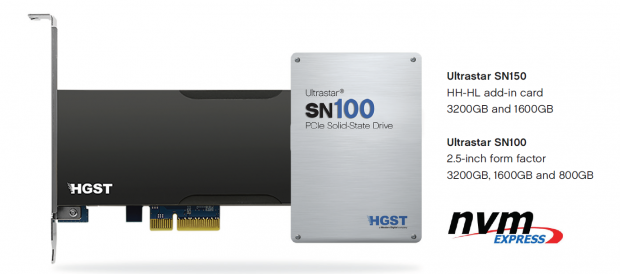 NVMe has many advantages over proprietary software implementations, but the vFAS structure employed with HGST's FlashMAX line (Product evaluation here) is particularly strong. The FlashMAX II offers multiple software features that make it a compelling offer in many environments, and after speaking with HGST executives at the event we were assured that these same software capabilities will be extended to the Ultrastar SN100 line of products.
HGST is also announcing a new FlashMAX III, so the two product lines, with both vFAS and NVMe, will continue to have a place in the HGST product stack. Performance specifications and endurance information will hash out the differences between the two PCIe SSD offerings from HGST, but at this point there aren't any related publicly available specifications for either new product. We will keep our readers updated as more information becomes available.
One of the key differntiators between the two products is the inclusion of a 2.5" version of the SN100, which will not be offered with the FlashMAX III. The traditional HHHL PCIe add-in card will be available in capacities of 3,200 and 1,600GB, and the ability to purchase a front-loadable version in 2.5" with whopping capacity points of 3,200, 1,600, and 800GB will be an attractive proposition for many.
NAND fabs have the advantage of creating and selling their storage products with their in-house NAND. While this is ideal in many situations, it isn't always the optimum solution. For HGST, who doesn't have their own foundry, one of the advantages of having a pick of which NAND to deploy into each product is the ability to tailor the decision based upon the strengths and weaknesses of each NAND offering on the market. The SN100 utilizes Toshiba MLC NAND to help it fit within a reduced power envelope. Stuffing 3.2 TB of flash into a HHHL card is impressive, but doing so in a 2.5" drive with a 15mm z-height is even more impressive. HGST is also incorporating a component from the STEC acquisition, CellCare NAND management technology, which will help extend the endurance and reliability of the underlying NAND. The ability to tailor the NAND to the application allows HGST to customize their products for the task at hand.
The Ultrastar SN100 is intended to serve the most robust workloads in mission-critical applications. Keep your eyes peeled to our IT/Datacenter section for an upcoming product evaluation.
Related Tags