EMC goes on PR frenzy with acquisition news and product updates
EMC acquires TwinStrata to build out hybrid cloud offering and announces several product updates for XtremIO, Isilon, ViPR, and VMAX.
Published Wed, Jul 9 2014 10:07 AM CDT
|
Updated Tue, Nov 3 2020 12:15 PM CST
On a very busy press day for the company, EMC announced several news items spanning across several product lines. Changes include broadening the configuration options for XtremIO and Isilon, a more open and hybrid approach to deploying VMAX, updates for ViPR, and a new Hadoop big data analytics solution.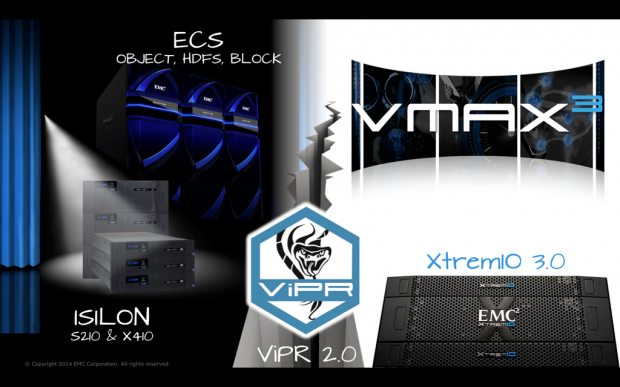 XtremIO gets a refresh with both a new entry-level configuration of 5TB, as well as a larger scale-out cluster capable of expanding to six 20TB X-Bricks. More interesting than just the configuration expansion, XtremIO is now adding inline compression to its intelligent data handling feature set. Combined with existing snapshot and deduplication, EMC claims the product now supports petabytes of data.
On the VMAX front, EMC announced VMAX3, an open enterprise platform to bridge standard enterprise storage with cloud storage. As part of this release, EMC also announced the acquisition of TwinStrata, Inc., developer of the CloudArray management software. The new offering is engineered to give storage administrators an easy way to provision storage to either in-house storage arrays or out to public cloud storage, all based on workload requirements. According to a letter on the TwinStrata website from Nicos Vekiarides, CEO of TwinStrata, "Working together as part of EMC, we are looking to integrate CloudArray into the new VMAX3 enterprise data service platform to allow you to automatically tier workloads even more seamlessly for off-premise storage capacity expansion, data protection and disaster recovery."
Additional accouncements from EMC include enhancements to Isilon that result in 2x the performance, updates to the ViPR product line with the announcement of ViPR2.0, and the general availability of the EMC ECS Appliance. A list of the links to each press release with further details is below.
https://www.emc.com/about/news/press/2014/20140708-04.htm
https://www.emc.com/about/news/press/2014/20140708-02.htm
https://www.emc.com/about/news/press/2014/20140708-01.htm
https://www.emc.com/about/news/press/2014/20140708-03.htm
Related Tags