Samsung details datacenter SAS and SATA SSD options at Global Summit
Samsung displays their latest datacenter offerings at their SSD Global Summit.
Published Tue, Jul 8 2014 5:43 AM CDT
|
Updated Tue, Nov 3 2020 12:15 PM CST
The 2014 Samsung SSD Global Summit took place last week in Seoul. With tight schedules, long international flights, and a holiday weekend as well, our detailed analysis will begin rolling today. Chris will dive in on coverage on the consumer side, and also post video of the entire Global Summit presentation. I will be weighing in on some of the datacenter storage solutions provided by Samsung.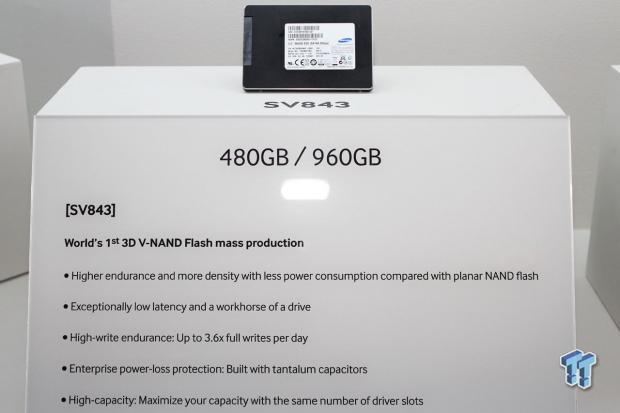 The majority of the Global Summit presentations focused on the innovative new V-NAND products from Samsung. V-NAND is 3D NAND that achieves better density, performance, endurance, and power consumption, via vertical stacking of the NAND cells. This runs counter to the established norm of increasing density through NAND shrinks, and with good reason. Shrinks provide more density, but actually reduce endurance. V-NAND provides a revolutionary path forward, and Samsung is the first to mass-produce and bring to market 3D NAND-based solutions.
Samsung christened V-NAND with a release of the world's first mass-produced 3D NAND SSD into the datacenter. The benefits of V-NAND align themselves almost perfectly with the common datacenter pain-points, such as power consumption, density, and endurance. The 6Gb/s SATA SV843 brings higher endurance, 3.6 DWPD (Drive Writes Per Day), and enterprise-centric features such as power loss protection. The SV843 comes in 480 and 960GB capacities and random read/write performance up to 88K/14K IOPS. Sequential read/write is spec'd up to 530/430 MB/s.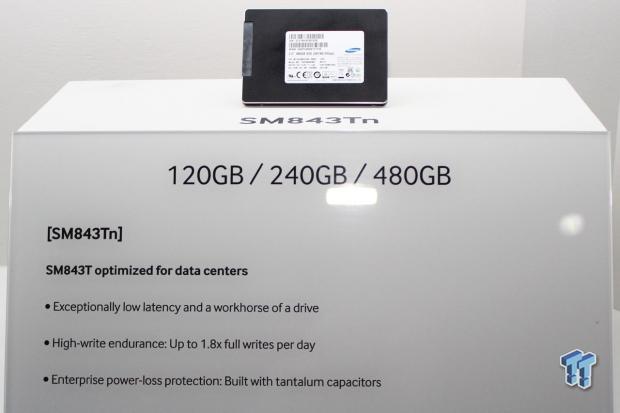 The SM843Tn is a 6Gb/s SATA 20nm-class datacenter SSD that offers high write endurance of 1.8 DWPD and has datacenter-optimized firmware, full data path protection, and power loss protection. The drive comes in 120, 240, and 480GB capacities and random read/write performance up to 89K/13K IOPS. Sequential read/write is spec'd up to 530/430 MB/s.
The PM853T is a 6GB/s SATA SSD that comes in 240, 480, and 960GB capacities. This SSD is the OEM version of the 845DC EVO we recently evaluated. The PM853T features 3bit MLC. This is another big advantage for Samsung, which is currently the only company shipping a 3bit MLC product of any variety, be it client or enterprise. This breed of MLC provides less endurance than 2bit, but also enables a lower price point that will help drive more SSDs into the datacenter for read-centric workloads. Performance is still impressive up to 87K/15K random read/write IOPS, and 530/410 MB/s sequential read/write.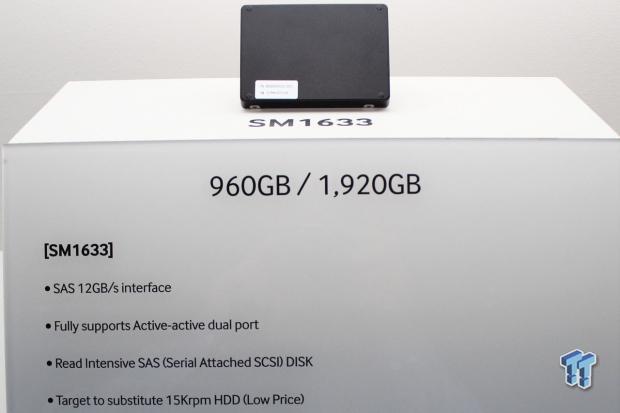 Samsung also has a robust line of SAS options for the OEM space. 12Gb/s SAS and PCIe are clear steps forward for SSDs in the datacenter, and we have had a number of value-oriented 12Gb/s SAS SSDs make the way through our lab over the last few months. The SM1633 is also designed to provide the speed and high-availability features of 12Gb/s SAS, such as an Active-active dual port that provides multipath and failover capabilities, for read-centric applications. The SSD comes in only two massive capacities of 960 and 1,920GB. It would not be surprising to find that this is a 3bit MLC product, but that is speculation. Unfortunately, performance specifications are not currently available for this product.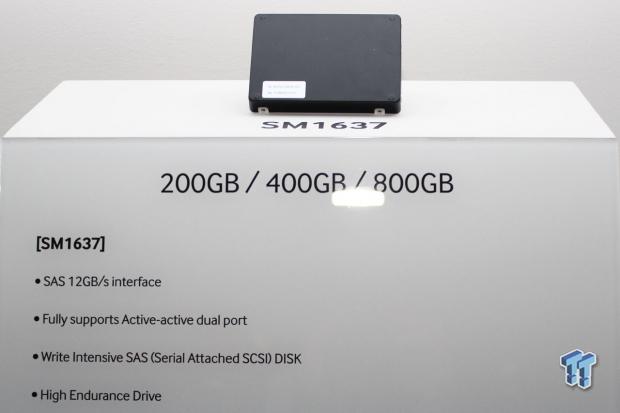 The SM1637 is an upper-echelon high-endurance offering that comes in capacities of 200,400, and 800GB.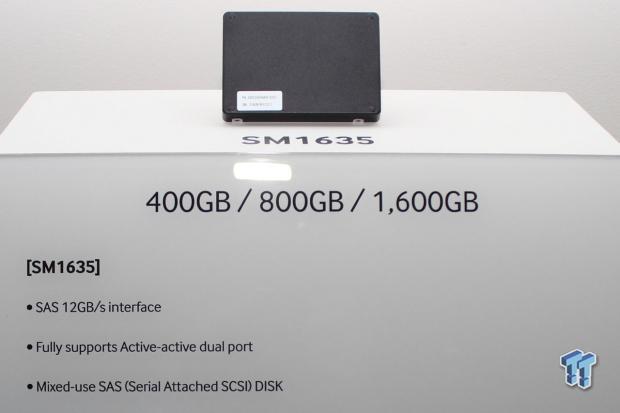 The SM1635 is a mixed-workload 12Gb/s SAS SSD that features the same Active-active dual port connection that provides blistering performance up to 200K/50K random read/write speeds. Sequential speed weighs in at a tremendous 1,400/1,400 MB/s read/write. Perhaps most impressive is the incredible density that ranges from 400 to 1,600 GB.
Related Tags