Plextor displays new PlexTurbo caching software at Computex 2014
Plextor plans to remain competitive through superior firmware and software options.
Published Jun 4, 2014 10:50 PM CDT
|
Updated Tue, Nov 3 2020 12:16 PM CST
1 minute & 6 seconds read time
Computex 2014 The SSD market is rapidly consolidating. Those who create flash, or who have strategic agreements with NAND fabricators, are beginning to take over the SSD market. For smaller companies the challenge is to find ways to innovate and stay relevant in the SSD market. Plextor, and their Lite-On counterpart, have some of the most experienced and advanced firmware engineering teams in the world. This allows them to deliver products that give them the edge on their competitors. Plextor is looking to leverage this considerable experience to weather the storms of SSD consolidation.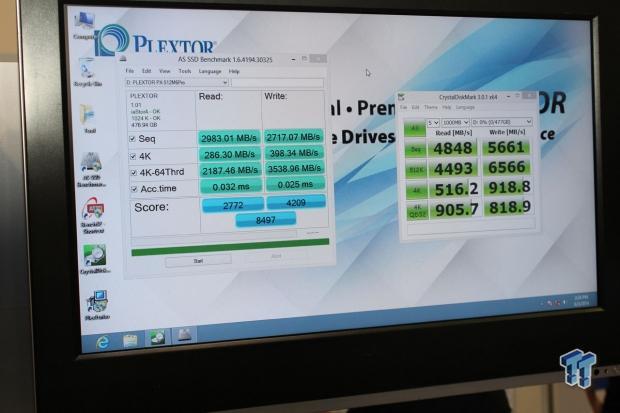 The latest addition to Plextor's arsenal is the PlexTurbo caching software. By utilizing system DRAM Plexotr creates a flexible cache pool that can boost performance of the underlying storage by leaps and bounds. Above we witness astounding system performance, 4.6GB/s read and 5.6GB/s write speeds, created by leveraging up to 16GB of system DRAM for a cache layer. Samsung has a similar solution, but a key difference is that Samsung limits the amount of system DRAM used for caching, primarily as a power-conserving measure in mobile applications. Plextor is essentially one-upping Samsung's offering by allowing users to allocate much larger chunks of DRAM for even more bleeding-edge speed.
DRAM caching brings along inherent risk during power loss, so stay tuned for Chris Ramseyers full review off the new Plextor software to see just how they address that issue.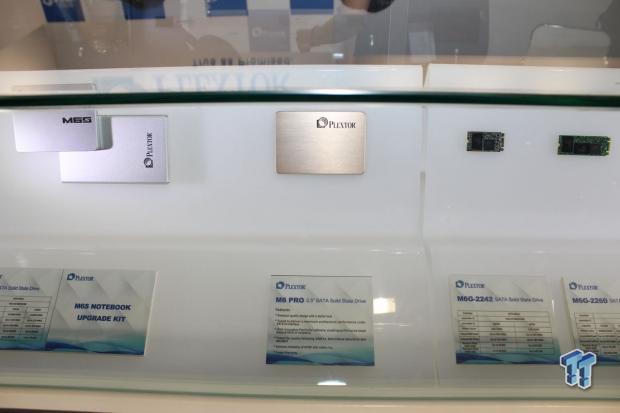 Plextor also had its M6 Pro on display, along with many of their other SATA SSD offerings.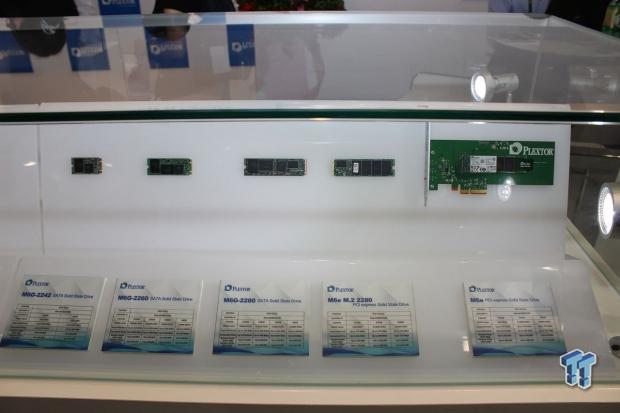 We were also briefed on the breadth of Plextor's new M.2 offerings, they intend to invest heavily into this space and compete aggressively.
Related Tags