Pure Storage releases two new FlashArrays and latest 4.0 software
Latest software release adds replication, snapshot and policy management services while new hardware adds both lower and higher capacity points.
Published Thu, May 15 2014 8:27 PM CDT
|
Updated Tue, Nov 3 2020 12:16 PM CST
Pure Storage, an all-flash enterprise storage company based in Mountain View, Ca, introduced both a new entry-level and high-capacity array to its portfolio, in addition to announcing June availability for its next generation software, Purity 4.0. The new software features FlashRecover - a set of fully integrated replication, snapshot and policy management services.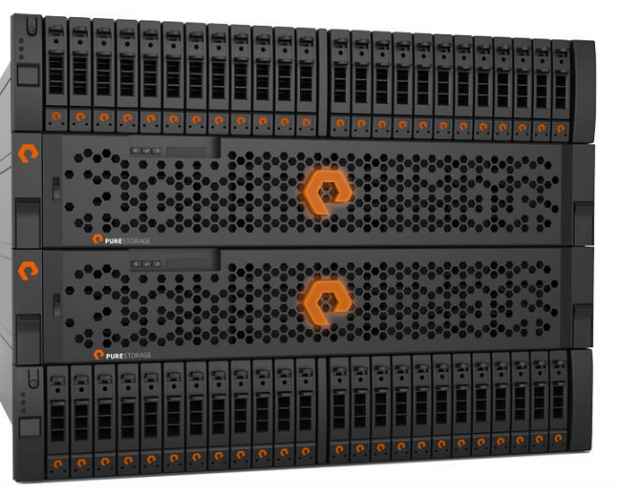 The new FA-405 and FA-450 arrays bookend the existing offering - the FA-420 - adding an entry-level price point as well as a higher capacity. The FA-405, dubbed "Small and Mighty", has two high availability controllers and supports up to 40TB of capacity. The new FA-450, playfully named "Consolidation King", raises the maximum capacity up to 250TB. Both of the new products are generally available now through channel partners.
Purity 4.0, available in June 2014, expands on disaster recovery and data protection by providing native and fully integrated replication, snapshot and a policy management service. These new features are aimed at data center customers looking to get the best possible capacity/performance to cost ratios. Key new features of Purity 4.0 include:
FlashRecover Replication and Snapshots for Comprehensive Data Protection Purity FlashRecover technology features data reduction-aware replication and snapshot services to deliver space-efficient, point-in-time copies and expanded data protection for local and remote data centers. FlashRecover Replication runs natively, utilizing Purity's proprietary FlashReduce deduplication and compression technologies to dramatically reduce the network bandwidth required to support disaster recovery. FlashRecover enables replication across the FA-400 Series in any combination of fan-in/fan-out configurations, and supports replication of a single volume, consistent groups of multiple volumes, or all data content on the array.

FlashRecover Protection Policies for End-to-End Protection Policy Management Purity FlashRecover Protection Policies delivers simplified global management of data protection. Unifying replication and snapshot services into a single policy orchestration layer, the service enables users to manage various levels of local and remote data protection, and data retention by volume, consistency group and/or array.

FlashProtect: Expanded Information Security for Mission-Critical Environments Purity FlashProtect combines new rapid data locking and dark site support services with existing always-on data-at-rest AES encryption and high availability (HA) to deliver military-grade data security and compliance.
Related Tags