Airwolf 3D has just announced the launch of its first hot-end for 3D printers that allows customers to print in engineering-grade materials such as polycarbonate, Bridge Nylon and Nylon 645. The new JRx Hot-End is patent pending and not only allows users to print in the hotter temperature range of Nylon and PC, but also retains printing capabilities in the ABS and PLA ranges as well.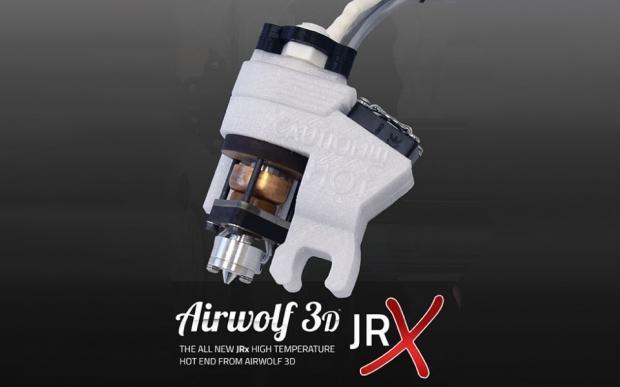 "Printing polycarbonate is the holy grail for prosumer 3D printers," stated Erick Wolf, president and founder of Airwolf 3D. "Personally, however, I think printing nylon is going to explode because it is incredibly strong and has almost unlimited applications. You can even dye different layers to get multi-colored products. Bridge nylon, for example, has been reformulated to meet the growing demand for the material. At 270 degrees Celsius (518 degrees Fahrenheit) we find the layer-to-layer adhesion is superb and the prints stick uniformly to our heated bed. When dealing with nylon at lower temperatures there tends to be trial and error to achieve ideal layer strength. That won't happen with our new JRx hot end."
Airwolf 3D says that it utilizes Teflon and a proprietary thermal barrier to prevent thermal creep from happening between the heater element and the PTFE liner. This allows the hot-end to reach temperatures as high as 270C and printing of Nylon and Polycarbonate. Airwolf 3D says that the JRx hotend is featured in 2 models with compatibility for the AW3D Xl and 5.5 3D printers for $195, while the JRx for the AW3D HD will cost consumers $295.