Windows 8.1 update 1 is finally here and you can download it now
Microsoft has finally released its long-awaited first update to Windows 8.1, and you can download it now via Windows Update.
Published Tue, Apr 8 2014 7:54 PM CDT
|
Updated Tue, Nov 3 2020 12:17 PM CST
Microsoft has been talking about the upcoming Windows 8.1 Update 1 for months now, and today the Redmond, Washington-based giant has finally released the update to the public. Windows 8.1 users can head over to Windows Update and install Update 1 to their system now, or you can wait and let Windows run the update for you when your automatic updates are scheduled to run.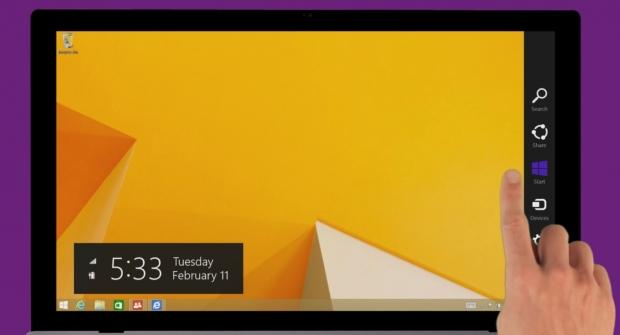 "Windows 8.1 Update and Windows RT 8.1 Update include improvements to make Windows more familiar and convenient for devices that use touch and mouse input and to make Windows available on a wider variety of devices, so you have more to choose from. Windows 8.1 Update and Windows RT 8.1 Update also include security and performance updates, and they must be installed for your PC to receive any future security updates for Windows 8.1 or Windows RT 8.1," Microsoft said in a release.
Below is a list of the changes Windows 8.1 Update 1 brings to the table.
Boot straight to the Desktop: As was previously rumored, Windows 8.1 Update 1 will allow users to boot and resume straight to the classic desktop UI, allowing them to bypass the tiled Modern UI altogether. This will likely be a welcome feature considering that the Modern portion of Windows 8 hasn't been well received since it debuted back in late 2012.

Changes to the Taskbar: With Windows 8.1 Update 1, you can use both desktop programs and Windows Store apps from the classic desktop UI. Windows Store apps will also work on the desktop UI's Taskbar as well, and a new button on the Taskbar will permit you to access the Windows Store without forcing you to dive into the Modern UI to do so. With Windows 8.1 Update 1, the Taskbar will be accessible while using Modern apps by moving your mouse pointer to the bottom of the screen.

Tweaks to the Modern UI Start screen: The Modern UI Start screen will also receive some tweaks, including dedicated Power and Search buttons. The addition of a dedicated power button in the Start Screen will allow users to power their PCs off without having to open the Charms menu, shaving some seconds off the process of shutting down their systems. Newly installed Modern apps will be labeled "New," and will pull up a drop-down menu when right-clicked, as opposed to the bar on the bottom of the screen.
Related Tags