Qualcomm is ready to kick some mobile ass in 2015 with new Snapdragon
Qualcomm's next-gen Snapdragon processors are ready to super charge smart devices in 2015.

Published Tue, Apr 8 2014 12:29 AM CDT
|
Updated Tue, Nov 3 2020 12:17 PM CST
Qualcomm already power countless smart devices, but the competition is heating up with Intel, NVIDIA, Apple, Samsung and much more wanting to change the game with their own devices.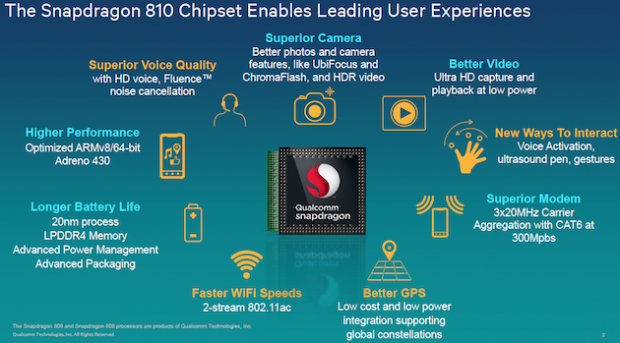 The company behind the Snapdragon range of system-on-chips (SoC) has already announced its 64-bit capable Snapdragon 810 and 808 processors, which are high performance hardware designed for the best of the best Android-powered devices. Both chips are baked on a 20nm process, meaning they will use less power, will be lighter and smaller, and deliver more performance.
The eight-core Snapdragon 810 is the star of the show, featuring four Cortex-A57 cores for power-hungry tasks, while four lower-power Cortex-A53 cores will be used for everything else. We will have LPDDR4 RAM show up for the party, as well as 4K display support. There'll also be voice activation and dual Image Signal Processors for better imaging.
On the GPU side of things, we have an on-board Adreno 430 chip which will reportedly be 30% faster than the current Adreno 420 model. Cat 6 LTE-Advanced will be baked directly onto the chip, as well as two-stream multi-user MIMO, which will give your Wi-Fi a kick in the throughput department. When it comes to the 808 chip, we'll have six cores, two of which will be the faster A57 chips, while the remaining four will be the A53 cores.
The Snapdragon 808 will support up to 2K displays, with a baked-in Adreno 418 GPU which is around 20% faster than the current Adreno 330. Both of these chips should be baked into devices sometime in 2015.
Related Tags