AMD's Radeon R9 295X2 gets detailed in a leaked preview
AMD's upcoming dual Hawaii-based Radeon R9 295X2 will command up to 500W of power, but delivers some great performance.

Published Thu, Apr 3 2014 7:57 PM CDT
|
Updated Tue, Nov 3 2020 12:17 PM CST
We know that the Radeon R9 295X2 is coming, very very soon, but VideoCardz.com has an exclusive piece detailing AMD's upcoming dual Hawaii-based GPU. It's quite the beast, so prepare your hearts, wallets and electric bills.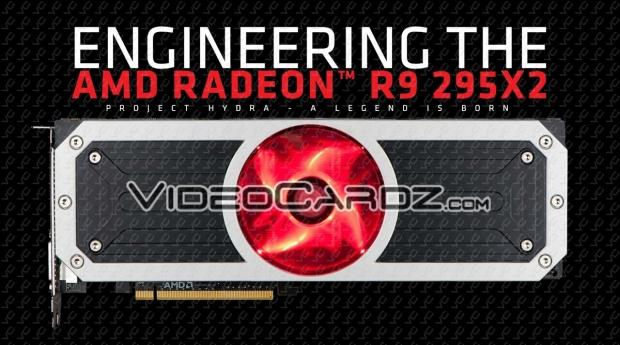 The Radeon R9 295X2 is the first dual-GPU card from AMD based on its impressive Hawaii architecture, where AMD has baked in two fully loaded Hawaii cores, instead of cutting them down for the usual thermal and power consumption issues. We have a total of 8GB of RAM spread across its impressive 512-bit memory bus.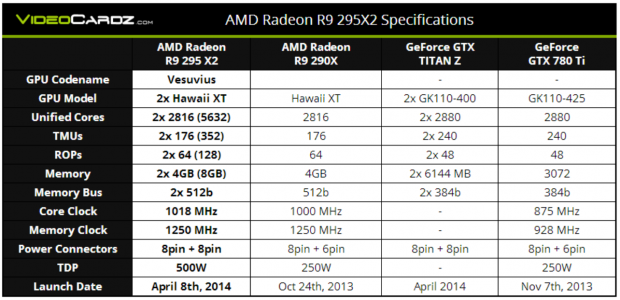 The full specs you can see above, comparing it against the Radeon R9 290X, the just-announced GeForce GTX TITAN Z, and the slightly older but still very relevant GeForce GTX 780 Ti. The new R9 295X2 features two 8-pin PCIe power connectors, with a total TDP of 500W. This is quite high considering the R9 290X has a TDP of 250W, as does the GTX 780 Ti. But, we have two full Hawaii cores here, versus the usual cut down of cores that we see in most dual-GPU cards.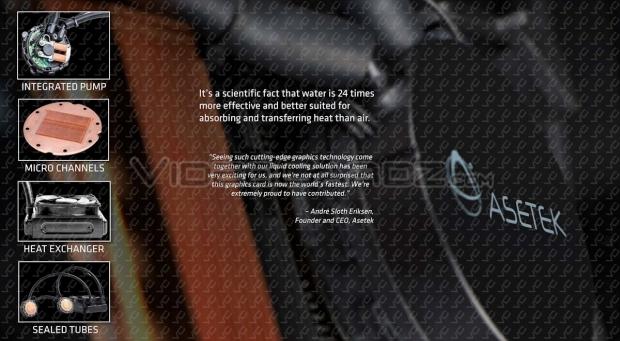 The biggest talking point here is that the Radeon R9 295X2 features water cooling, making it the first AMD video card to feature liquid cooling by default. ASETEK are the company behind the cooler, which sees the R9 295X2 featuring a 120mm fan installed, but it looks like there is room for a second fan, which might be required if you want to run this thing in a smaller case, or overclock the hell out of it.
You are all here to see what performance the Radeon R9 295X2 can do, right? Yeah, I thought so. Well, the R9 295X2 looks like the perfect card for high-resolution gaming, such as Eyefinity and 4K. AMD does quite well in the high-res game thanks to its wider bus, but we also have four mini DisplayPort outputs, and a single Dual-Link DVI connection, too - plenty for Eyefinity goodness.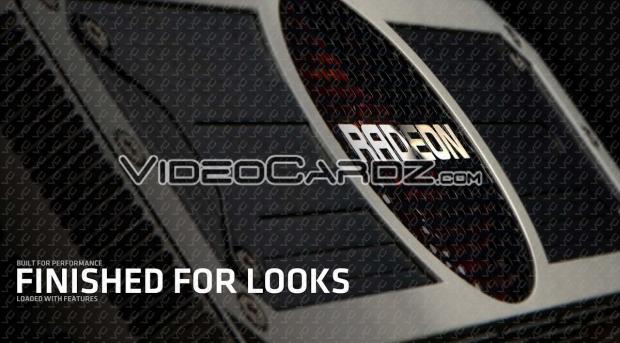 AMD has decided to share just a single slide of performance teasing, with 3DMark Fire Strike, where we can see it scores around 60-65% more than a single R9 290X. Come back on April 8 for more news, where we should hopefully have our review up on this beautiful looking piece of technology.
Related Tags