Mozilla's CEO, Brendan Eich, resigns over anti-gay controversy
The internet wins a small battle today as Mozilla's co-founder CEO, Brendan Eich, resigns his position amidst anti-gay donation fallout.
Published Thu, Apr 3 2014 4:33 PM CDT
|
Updated Tue, Nov 3 2020 12:17 PM CST
Mozilla's co-founder and CEO, Brendan Eich has come under a lot of fire as of late over a $1000 donation he made to a political group that supported California's Proposition 8, and today he has announced that he will be resigning from the company he helped build. Mozilla says that it takes pride in being held to a different standard, and it knows that it did not live up to that standard over the past week.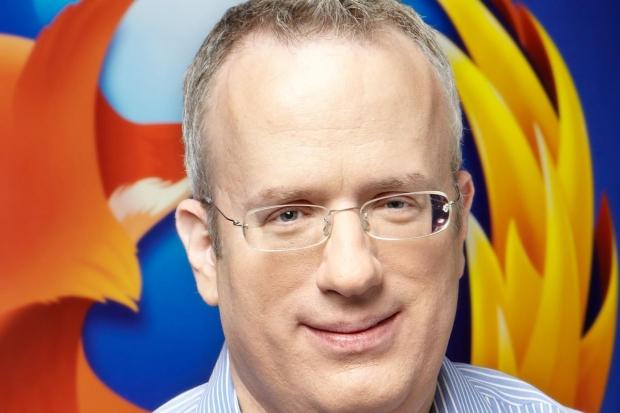 "We know why people are hurt and angry, and they are right: it's because we haven't stayed true to ourselves," Mozilla's chairwoman, Mitchell Baker, said on the company's blog. "We didn't act like you'd expect Mozilla to act. We didn't move fast enough to engage with people once the controversy started. We're sorry. We must do better. Brendan Eich has chosen to step down from his role as CEO. He's made this decision for Mozilla and our community."
You will recall that earlier this week, Eich's personal beliefs took center stage when dating website, OKCupid, called him out over the small donation that he made a few years ago. While many feel that his personal beliefs should not be in question, the outcry from the internet seems to have taken its toll. "Hello there, Mozilla Firefox user. Pardon this interruption of your OkCupid experience. Mozilla's new CEO, Brendan Eich, is an opponent of equal rights for gay couples. We would therefore prefer that our users not use Mozilla software to access OkCupid," read a statement on OkCupid's website.
"I know there are concerns about my commitment to fostering equality and welcome for LGBT individuals at Mozilla," Eich Said in a statement shortly after OkCupid's actions went viral. "I am committed to ensuring that Mozilla is, and will remain, a place that includes and supports everyone, regardless of sexual orientation, gender identity, age, race, ethnicity, economic status, or religion." This prompted a response from Baker that read; "Acting for or on behalf of Mozilla, it is unacceptable to limit opportunity for *anyone* based on the nature of sexual orientation and/or gender identity. This is not only a commitment, it is our identity"... "Speaking as the Chairwoman, I want to speak clearly on behalf of both the Mozilla Corporation and the Mozilla Foundation: Mozilla supports equality for all, explicitly including LGBT equality and marriage equality."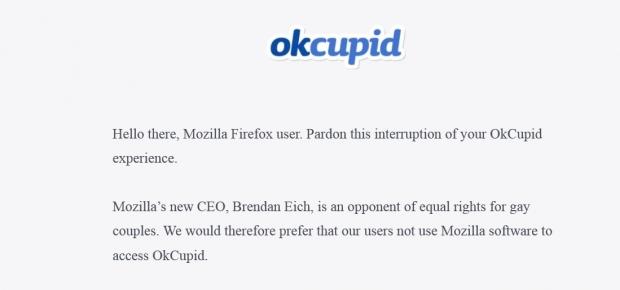 Earlier this week, Eich said that despite the controversy, he felt like he was still the right person for the job, and that he would not be stepping down. Now it appears that both internal pressure and external pressure have driven him to admit defeat and step down from his position as CEO and board memeber effective immediately. Some of you might remember that Eich also founded the Java Script language, as well as many other projects that became standards in Web Development and Design over the years.
Speaking to website, Recode, Baker said that, "It's clear that Brendan cannot lead Mozilla in this setting. The ability to lead - particularly for the CEO - is fundamental to the role and that is not possible here...I think there has been pressure from all sides, of course, but this is Brendan's decision," Baker said. "Given the circumstances, this is not surprising."
Related Tags