Smartphone Charging Wallet has a battery inside
Hammacher Schlemmer Smartphone Charging Wallet lets you have a backup battery on you at all time to keep your smartphone going.
Published Fri, Mar 28 2014 8:30 AM CDT
|
Updated Tue, Nov 3 2020 12:17 PM CST
Like most guys, I typically have a few things in my front pocket. I like to carry my wallet there so I don't have to sit on it while I drive or work. I also have my smartphone in a pocket most of the time and a car key. I may misplace the car key more than I like to admit, but I always have my wallet and smartphone on me.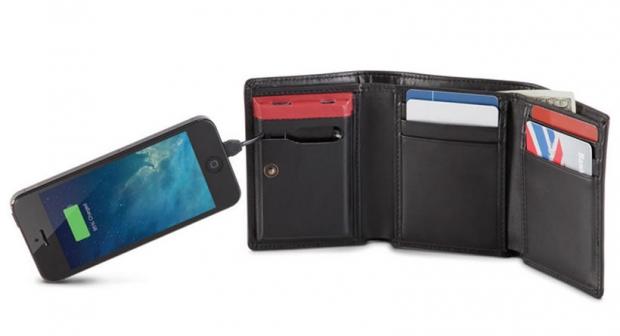 I bet most guys are the same way so a good place to put a battery to keep your smartphone going longer would be in the wallet. That doesn't sound like something that would work, but Hamamcher Schlemmer has done just that. The company has a new Smartphone Charging Wallet that has a smallish 680 mAh battery inside.
That battery can be purchased in two versions with one having a charge cable for the iPhone built-in and the other having a charger for Android and other devices. The wallet itself is made from calfskin and has plenty of slots for credit cards and cash.
The wallet can hold up to nine credit cards and the small battery can recharge in about half an hour via a microUSB adapter. The wallet measures 9.25" L x 3.5" W x 0/5" D and weighs 4 ounces. The wallet is available for $79.95 now.
Related Tags