Intel unveils plans for desktop processor lineups and mini PCs
Intel is acclerating its plans for desktop processors: unlocked processors from enthusiast to entry-level series.
Published Wed, Mar 19 2014 5:47 PM CDT
|
Updated Tue, Nov 3 2020 12:18 PM CST
Intel unveiled its plans for its entire lineup of desktop processors and All-in-One PC systems as the company believes that desktop PC is getting stronger. The company started by pointing some facts observed during 2013 and 2014, which some people may not (or may) find it surprising.
According to The Vice President and General Manager for Desktop Client Platform Group Lisa Graff, Intel's desktop processor volume was up by 7% on a Year-on-Year basis as per Q4 2013's results. The following month, Intel observed that they've made an All-time record for its Core i5 and Core i7 unit shipments, as said by Brian Krzanich in January 2014.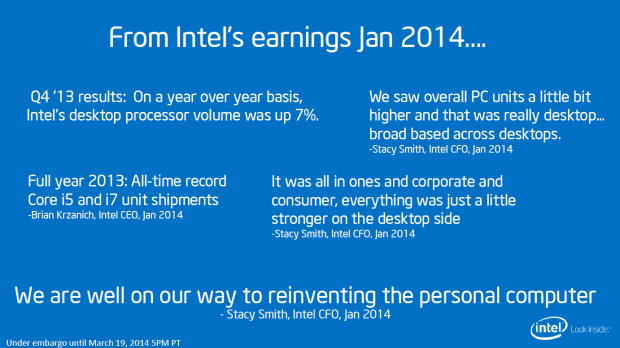 This should explain why Intel accelerated its plans to release its Haswell-E lineups and Intel X99 lineups well before than previously expected. Since the company sees a certain upward growth in the DIY PC and enthusiast market, it only makes sense to offer the best they have as quick as possible, provided its all ready for retail.
Intel's strategy now is to 'reinvent' desktop systems which means that the company wishes to push All-in-One PC, DIY enthusiasts, promote mini/Tiny PCs for various businesses and find out potential segments where they can promote such systems.
Intel plans to introduce mini-PCs in new places, and also to enhance PC experience for its existing customers. As said by Intel, the mini PCs can do the opposite of All-in-One systems. All-in-Systems is a small system built inside a large screen, maintains a certain form factor. Mini-PCs on the other hand does not have in-built screens. For business purposes, a mini-PC can be plugged in a digital signage or a panel inside a soda machine. The company also taken Steam Box and a GIGABYTE Brix as an example for providing a gaming system in a very tiny form factor.
Intel also wishes to develop and promote new ways of interacting with a PC, such as touch, voice assistance and even 3D Depth Camera that the company talked about during CES 2014. Intel also wants to provide wireless display while having higher battery life and HD displays. Intel said that they've been making investment to make it happen.
Intel also introduced its 'Ready Mode' Technology that uses the C7 low power consumption states for its 4th generation Core Series desktop processor using a combination of software and hardware level optimization. The software will be provided either by Intel or by motherboard or system manufacturers should they need to do so. As of now, its present for desktop processor.
Intel Ready Mode also allows you to access your Ready-Mode enabled PCs to sync and store photos, media streaming, file and file transferring while consuming lesser than 10watts. Once you leave the main desktop system with Ready-Mode on, you can use your laptop or a tablet to access your PC without wasting time to go towards the system and wake up from hibernation or switch the system on. You will always be connected to your PC at the cost of less than 10watt power consumption on the Ready-Mode enabled 4th Generation PC.
Intel also confirmed that unlike the last time where C7 idle states sparked series of discussions and articles, followed by compatibility lists from multiple manufacturers, this time the Ready Mode's sub-10watt consumption will not be a problem with existing power supply lineups. The company is not changing the thermal envelope.
Coming towards the Intel Desktop Product Line...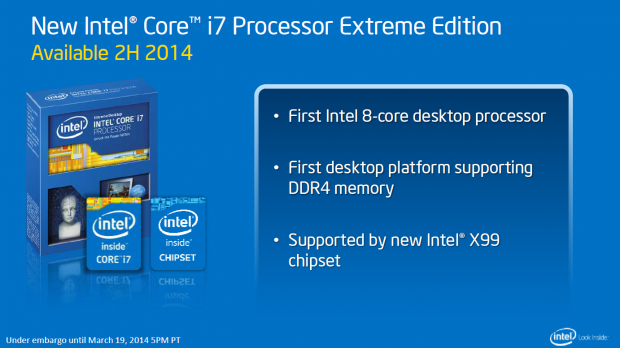 Intel proudly says that DIY PC hardware enthusiasts are its most loyal customers. The company starts explaining from Extreme Series and through the performance, mainstream and Entry-level segment.
Intel starts by saying that they've completed ten years since they've introduced 'Extreme' Series processors- starting with its single core processors during its Pentium 4 days which used 130nm process. In 2014, Intel will release its first 8 cores 16 threads Extreme Series desktop processors along with Intel X99 and DDR4 platform. This will be available in 2H 2014. It should be noted that the company didn't use the word 'Haswell-E', but confirmed that Intel X99 platform will support SATA-Express.
It should be noted that as of now, its only the upcoming Extreme Series processors is confirmed to use DDR4.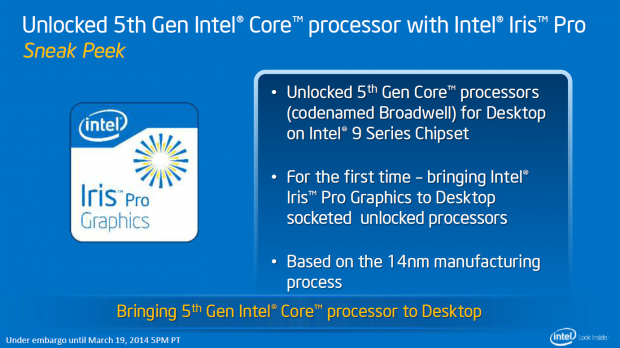 Intel confirmed that its bringing Broadwell processors for desktops in an LGA package with Intel 9 series chipsets. These will be unlocked 14nm processors and will use Iris Pro graphics.There is no specific release date for Broadwell desktop processors yet, but the company assured to keep us updated. As of now, they've not planned any Broadwell desktop processors with BGA package.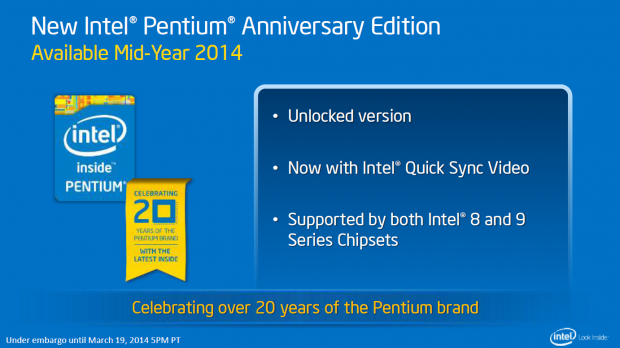 In regards to Entry-level processors, the company said that they've received demands of unlocked processors within the Pentium lineup. The newer Pentium Series which will be supported by Intel 8 and 9 series chipset. The company also is implemented Quick Sync video functionality which was previously available only for Core Series processors. This should be available by mid-2014.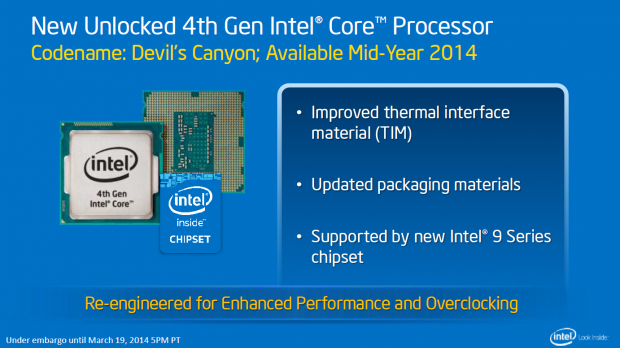 Intel also presented about its 4th generation refreshed lineups, codenamed 'Devil's Canyon' which will be released in the second half of 2014. This will use a new and improved thermal interface material, though the company cannot reveal any information about what kind of TIM they would be using. These processors will be using an updated packaging material. This processor is made primarily for gamers and enthusiasts. Intel confirmed that it will provide 'great performance' and overclocking functionality. Intel said that it will present more details about it 'very soon'. Intel confirmed that its focus for gamers and enthusiasts is the Devil Canyon.
Intel added that the codename 'Devil's Canyon' was chosen by gamers via vote.
Related Tags