Trading in video games is something most of us have done before, and until now, we have been limited to stores such as EB Games and Gamestop. Today that ends as Walmart has announced that it has began rolling out a new Video Game Trade-in program that will let customers trade in used video games and receive a Walmart gift-card in exchange. This means that customers can use the credit they received for the games on anything that Walmart sells, from food, to car tires and even clothing.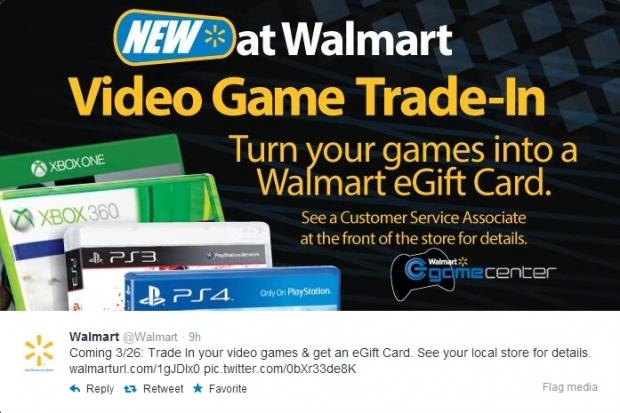 "Gaming continues to be an important business for us, and we're actively taking aim at the $2 billion preowned video game opportunity," said Duncan Mac Naughton, chief merchandising and marketing officer for Walmart U.S. Walmart says that the gift-cards will be normal Walmart gift-cards that can be used at any Walmart, Neighborhood Market, or Sam's Club in the US, and that the program will be handled by the same company that oversees its smartphone and tablet buyback program that launched last fall.
Much like the trade-in programs at EB Games or GameStop, the value of used games will vary, with older, less popular games receiving the lowest trade-in value, and newer popular games earning as much $35 or more depending on the title. No word was given on if Consoles apply to the trade-in program as well, but it would be nice to see Walmart allowing consoles, accessories, and even game guides to be traded in. Walmart says that the trade-in program will be available at all of its stores by this fall.