This plasma arc speaker is way cooler than your expensive Hi-Fi setup
New Kickstarter campaign aims to put a little juice into your music in a very mad-scientist sort of way.
Published Fri, Mar 14 2014 4:48 PM CDT
|
Updated Tue, Nov 3 2020 12:18 PM CST
At some point, I am sure that most of us have fantasized about being the stereotypical mad scientist who spends his days in a lab filled with chemical experiments and electricity arcing from one source to the other. While most of us will never make it to this point in our scientific endeavors, we can have a cool device that sends arcs of electricity shooting from one electrode to another, and have it play music at the same time.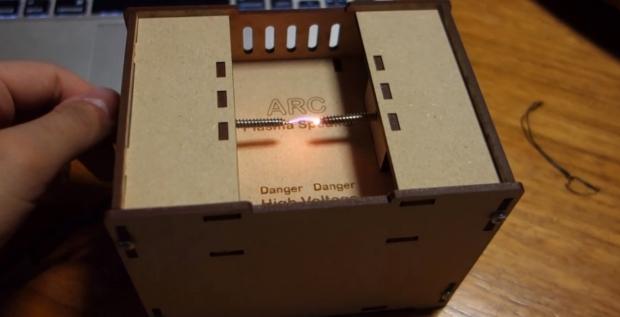 A new Kickstarter campaign from ExcelPhysics is offering kits that let backers build their own speakers that emanate sound by using nothing but the plasma generated when electricity arcs from one electrode to another. "A plasma speaker plays music just like your normal speaker but it uses an arc of electrical plasma running at 30,000 volts," the company said on its Kickstarter page. "Most people aren't aware that plasma arcs can be modulated to generate sounds so your friends will be in for a surprise when you explain to them that the plasma arc IS the speaker! Your typical speaker uses an electromagnet to vibrate small drums, but a plasma speaker uses an electrical arc to ionize and compress the air around it to play music, all with no moving parts!"
The Plasma Speaker works by plugging in an audio source such as your smartphone, laptop, or radio. The audio input is converted into a pulse that causes an arc of high-votage electricity to jump from one electrode to another, and the audio is reproduced as sound waves emanating from the plasma. This is definitely one Kickstarter I am backing, and you should too. Head over to the source link below for more information.
Related Tags