A Leaked Scene from the new Veronica Mars movie hits the web
A "Leaked Scene" from the upcoming Veronica Mars film hit the web just a few hours ago, and boy is it funny.
Published Wed, Mar 12 2014 5:52 PM CDT
|
Updated Tue, Nov 3 2020 12:18 PM CST
Just an hour ago, a "leaked scene" from the upcoming Veronica Mars movie hit the web. This hilarious two minute video was dropped on the Funny or Die website, and features Kristen Bell in her reprised role as the beloved amateur detective, Veronica Mars. The "leaked scene" shows Veronica Mars sitting at a table in a restaurant discussing a case with a potential suspect, when one -or more waiters step in to deliver the line "Your check, sir."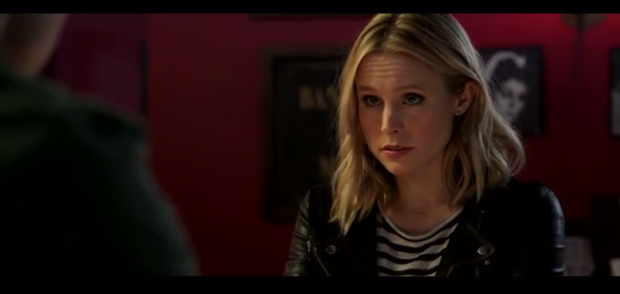 Early last year, a Kickstarter campaign launched to bring the long-at-rest television character Veronica Mars back to life on the silver screen. While the initial campaign called for a mere $2 million to cover production costs, and within just a few short weeks, fans pledged an astounding $5,702,153, making the campaign one of the most successful ever on Kickstarter. The success of the campaign was owed to the devoted following of the CW television series Veronica Mars, which ran from 2004 to 2007, and these contributors were well rewarded for donating to the cause.
In addition to receiving t-shirts, stickers, and even voicemail messages recorded by stars of the Veronica Mars film, backers of the Kickstarter campaign also had the opportunity to shell out some cash for a role in the upcoming film. While most of the roles were non-speaking background roles, for $10,000, backers had the opportunity to receive a speaking role as a waiter in the film, an invitation to the premiere and after party, a framed copy of the script page their role appeared on, a signed movie poster, a Blu-ray/DVD/ Digital copy combo pack of the film, a PDF copy of the shooting script, and (of course) a t-shirt.
The "leaked scene" video from Funny or Die comes just two days before the release of the film, and is a funny way for director, and creator of Veronica Mars, Rob Thomas, to promote the upcoming film. Though this isn't the real restaurant scene from the film, it is hilarious, and it proves that Kristen Bell has lost none of her charm as Veronica Mars. Veronica Mars is set to hit the silver screen on March 14th 2014, and is expected to be every bit as good, if not better than the original television series.
What do you think of Funny or Die's collaborative spoof video of the new Veronica Mars film? Let us know in the comment section below.
Related Tags