Funnyman Conan O'Brien kills with another episode of Clueless Gamer
Team Coco strikes again! Conan takes on WWE 2K14 in another hilarious segment of Clueless Gamer.
Published Mon, Mar 10 2014 11:28 AM CDT
|
Updated Tue, Nov 3 2020 12:18 PM CST
Last Thursday, Team Coco uploaded the newest installment of "Clueless Gamer" to YouTube.com. In this comical installment, TV personality Conan O'Brien reviews "WWE 2K14," a wrestling game based on the popular World Wrestling Entertainment (WWE) professional wrestling events. Conan goes head to head with his usual co-star in the segment, Aaron Bleyaert, and surprisingly, Conan's flawless button mashing technique earns him the win.
As usual with Conan's "Clueless Gamer" reviews, the jokes are non-stop, and truly funny. Conan calls "Louis C.K. crossed with Bart Simpson," bashes the "bad writing" of the game, and makes plenty of cracks about the questionable movements of the game's characters, all within the first few minutes of the review. After button mashing Blayaert's character into submission during the first round, Conan unveils his custom-made character, an uncanny (although more lanky) likeness of himself, and the jokes only get better. In the end, Conan gives the game a rating of one chair broken over Aaron Bleyaert's head, or "Pretty good."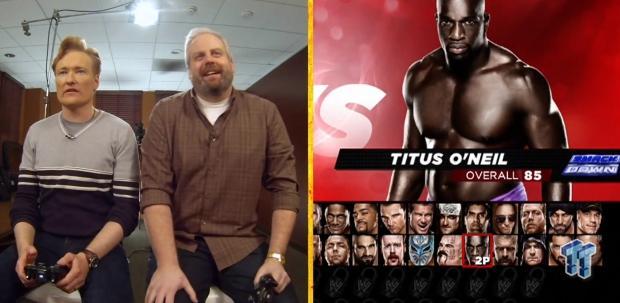 So far the WWE 2K14 episode of "Clueless Gamer" has racked up over 900,000 views on YouTube in just three days, putting it in the "Popular on YouTube - Worldwide" category on YouTube's front page. The Clueless Gamer series is no stranger to going viral; in September of last year, the most popular installment of the series, "Conan O'Brien Reviews 'Grand Theft Auto V'," hit viral proportions just a few hours after its initial upload, and now has over three million views, and only 702 dislikes. With this many views, and such sparse dislikes, it's clear that Conan's Clueless Gamer segment continues to be a big, funny hit.
Related Tags