Hilarious 911 calls - Oregon man gets a stuck zipper!
Isn't calling 911 over a zipper a little extreme?
Published Mon, Mar 10 2014 12:39 PM CDT
|
Updated Tue, Nov 3 2020 12:18 PM CST
Last month an elderly man in Oregon called 911 for -of all reasons - a stuck zipper. The absurd call was made to 911 dispatchers in the middle of February after the man's wife became stuck in her jacket because the zipper simply would not budge. The caller had the following hilarious exchange with the 911 operator:
Operator: "911 - Police, Fire, and Medical"
Caller: "Yeah, we got a problem here. My wife is struggling in her jacket and can't get it off. She's struggling in her... In her jacket; I want 911 up here immediately."
Operator: "Okay, is she not breathing, or?"
Caller: "She's alright, she just can't get her ****** jacket off, and I am p***** about it."
Operator: "Ok, so you want the fire department to come?"
Caller: "Somebody to help her! Yeah, yeah."
Operator: "Ok, can you cut it off of her?"
Caller: "No, I don't want to cut it off, it's a nice jacket."
As the call progresses, the caller less irate, but is still quite amusing. You can listen to the rest of the exchange below:
The hilarious exchange was detailed on OregonLive.com as part of Washington County's "You called 911 for that?!" campaign. As hilariously absurd as this 911 call was, in comparison to the majority of calls featured in the campaign, this call appears to be an actual emergency. A week following the zipper incident, one caller called dispatchers for help activating his cell phone, and a week after that, a woman called to complain that an unknown vehicle was blocking her driveway.
As the "You called 911 for that?!" campaign edges into its 7th week, we can only expect even more outrageous antics to follow from the residents of Washington County. Perhaps we will see something akin to the police officer who called 911 after ingesting pot brownies with his wife in 2007, or the woman who called 911 to complain about a bad manicure in 2010.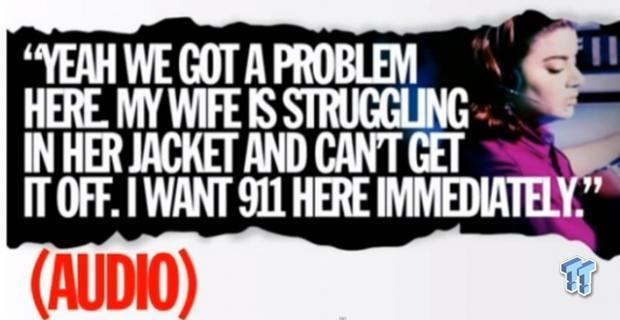 What are some of your favorite hilarious viral 911 calls? Let us know in the comments below!
Related Tags