With Batman: Arkham Origins nearing its next DLC launch date, Warner Bros. has just announced the next title in the franchise. Batman: Arkham Knight will be the fourth installment in the blockbuster series that chronicles the efforts of the efforts of Bruce Wayne to cleanse the streets of Gotham City from the criminal scum that plague its streets.

Warner Bros. says that this will be the highest-detailed, and fully realized version of Gotham the series has seen, and the Batmobile will be derivable this time around as well. The game will arrive in late 2014 on the PS4 as well as the Xbox One, and PC. No word was given on an exact launch date and pricing was not mentioned either. Box art for the game has popped up on Reddit though.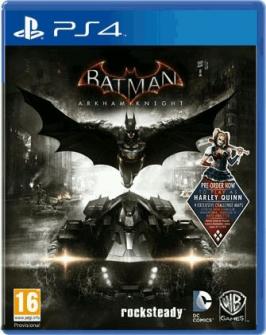 Today, Warner Bros. Interactive Entertainment and DC Entertainment are announcing Batman: Arkham Knight, Rocksteady Studios' conclusion to the series of award-winning titles Batman: Arkham Asylum and Batman: Arkham City. Batman: Arkham Knight is based on DC Comics' core Batman license and is scheduled to be released worldwide on PS4 in 2014.

In the explosive finale to the Arkham series, Batman faces the ultimate threat against the city that he is sworn to protect. The Scarecrow returns to unite an impressive roster of super villains, including Penguin, Two-Face and Harley Quinn, to destroy The Dark Knight forever. Batman: Arkham Knight introduces Rocksteady's uniquely designed version of the Batmobile, which is drivable for the first time in the franchise.