Today Elon Musk unveiled the new landing leg attachments that have been fitted to Space X's Falcon 9 rocket. The legs are intended to make recovery of the rocket's lift stages easier and more efficient. Currently Space X glides the first stage of the rocket into the Atlantic Ocean several hundred miles from the launch site at Cape Canaveral, Florida. As you would expect, this form of recovery is expensive, and time consuming.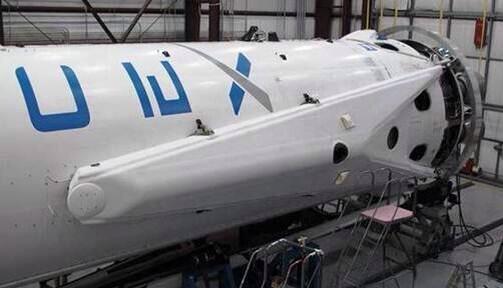 With the addition of the new landing legs, Space X hopes to eventually fly the rocket's first stage back to a landing site near the launch pad, and have it land itself vertically, making recovery and reuse much easier and far cheaper than current methods. The new landing legs are built out of a carbon fiber outer skin with a honeycomb inner layer comprised from high-alloy aluminum. The legs are planned to play on the Falcon 9's mission to the International Space Station on March 16th, but the first stage will be guided to the Atlantic for this first flight as Space X needs to test how the legs handle take off before attempting a vertical landing.
This will be Space X's second attempted Atlantic Ocean recovery of the Falcon 9 first stage, and the company says that "Given all the things that would have to go right, the probability of recovering the first stage is low," SpaceX spokesperson Emily Shanklin wrote in an email to website SpaceFlightNow. "There was maybe a 10 percent chance of recovery on the first flight of v1.1; this time there's maybe a 30 percent to 40 percent chance. Given that, it probably won't work, but we are getting closer."