Man removed from movie theater and detained for wearing Google Glass
Ohio man detained by the MPAA and FBI for wearing Google Glass inside movie theater, found innocent after 4 hours of harsh interrogation.
Published Tue, Jan 21 2014 10:31 AM CST
|
Updated Tue, Nov 3 2020 12:19 PM CST
Everyone reading this knows that both the MPAA and Hollywood studios are quite nuts when it comes to piracy, and today we are finding out just how crazy they are. While attending a showing of Jack Ryan: Shadow Recruit at an AMC movie theater in Columbus, Ohio, a man wearing Google Glass was removed from the theater and detained by the FBI for allegedly recording the movie.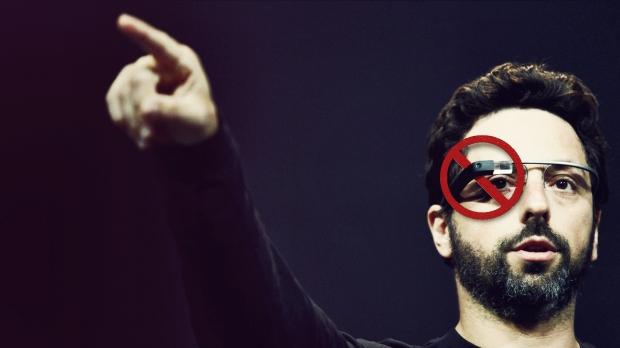 The pair of Google Glasses were fitted with prescription lenses and the electronic side was completely switched off during the movie, but that did not stop a badge wielding official from removing the pair of glasses from the mans face followed by escorting him out of the theater. Once outside the man was met by several mall cops and the FBI who detained him and his wife in separate rooms and began demanding answers as to why he was recording the movie.
"About an hour into the movie, a guy comes near my seat, shoves a badge that had some sort of a shield on it, yanks the Google Glass off my face and says 'follow me outside immediately'. It was quite embarrassing and outside of the theater there were about 5-10 cops and mall cops," the man said in an interview.

"You see all these cops, you know we are legit, we are with the 'federal service' and you have been caught illegally taping the movie," he was told.
The only problem was that the suspect was doing nothing more than enjoying a movie with his wife, and his Google Glass device was turned off. The man said that the feds asked him questions about everything from how much money he made, to how many computers he owned. The questioning got weirder when they began asking questions about Google it self. They wanted to know what information Google ask for in exchange for Glass, how much the company was paying him, and who his boss is that is making him record movies in theaters. The feds went as far as to tell the man that even though he was detained, the interview was voluntary and that if he refused to cooperate, bad things may happen to him.
"What followed was over an hour of the 'feds' telling me I am not under arrest, and that this is a 'voluntary interview', but if I choose not to cooperate bad things may happen to me. They wanted to know who I am, where I live, where I work, how much I'm making, how many computers I have at home, why am I recording the movie, who am I going to give the recording to, why don't I just give up the guy up the chain, 'cause they are not interested in me. Over and over and over again."
It was then revealed that long before the FBI or police got involved, a "guy from the movie association" had been called by the theater to investigate the man wearing Google Glass, and after watching him from afar (a few rows back maybe?) he made the decision to call in the police and FBI for further questioning. All in all the detention process took about four hours and only after connecting the Google Glass to a Laptop was it discovered that the suspect was innocent as he had been saying all along. If the FBI would have allowed him to do this at the beginning, the entire matter could have been quickly ended instead of being blown out of proportion. The man in question was compensated for the ordeal to the tune of four free movie tickets, but I would suspect that a lawsuit may be filled soon, if not, then the man who was detained is a far better man than me.
"A guy who claimed his name is Bob Hope (he gave me his business card) came in the room, and said he was with the Movie Association and they have problems with piracy at that specific theater and that specific movie. He gave me two free movie passes so I can see the movie again."
Is this the kind of scrutiny we can expect to see go mainstream later this year when Google launches Glass to the public? Will we see Glass banned from theaters, and other public places where cell phones are common place? Personally, I think that the MPAA will continue to run a sudo police force inside its partner theaters and will call in the FBI at even the slightest hint of piracy. It almost feels like we are living in the 1920s again when companies formed their own bands of thugs instituted private police forces to protect against spying, disgruntled employees, and other matters the local police had no time for. What do you think? Did the MPAA and FBI take it too far this time?
Related Tags