Valve, Oculus VR tease what consumer VR will be in 2015
Valve teases the future of VR at Steam Dev Days, promises 2015 will be the year of VR.

Published Fri, Jan 17 2014 5:32 AM CST
|
Updated Tue, Nov 3 2020 12:19 PM CST
We've learnt quite a lot from Valve's developer-only Steam Dev Days conference, with VR being the focus of the second, and last day of the event. Oculus VR's founder, Palmer Luckey, was a key guest for its VR discussions, where he teased the future of VR.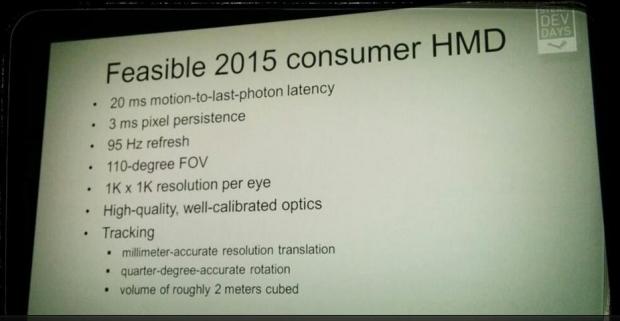 Luckey said: "Valve's VR tech is the best virtual reality demo in the world right now". This is quite a statement from Luckey, considering his company just received $75 million in Series B funding for Oculus Rift. The specifications of what Valve and Oculus expect from a consumer VR headset for 2015 are very, very promising:
Feasible 2015 consumer HDM
20ms motion-to-last-photon latency

3ms pixel persistence

95 Hz refresh

110-degree FOV

1K x 1K resolution per eye

High-quality, well-calibrated optics
Tracking
millimeter-accurate resolution translation

quarter-degree-accurate rotation

volume of roughly 2 meters cubed
Related Tags