Digital Storm shows off their new Bolt II Steam Machine at CES 2014
Digital Storm shows off the all new Bolt II Steam Machine at CES 2014 and we take an in-depth look.
Published Wed, Jan 8 2014 11:23 AM CST
|
Updated Tue, Nov 3 2020 12:19 PM CST
CES 2014 - This morning we got a chance to stop by the Digital Storm suite and check out their new Bolt II hybrid Steam Machine. Robert Wall, senior technician for Digital Storm gave us a full rundown of the new hybrid Windows and Steam OS system in the video below.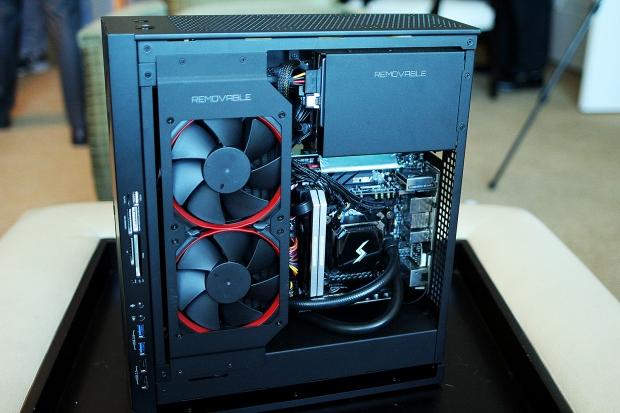 The Bolt 2 Steam Machine that was demoed featured an purpose-built custom case that is able to pack everything into a nice and tidy small form factor footprint. Processing power is handled by an Intel i7 4770k CPU along with 16GB of Corsair Dominator Platinum RAM. An NVIDIA GeForce GTX 780Ti handles the GPU duties while a Corsair H100i dual fan unit keeps the CPU running nice and cool. Air flow and lighting are controlled via Digital Storm's proprietary lighting and cooling module, and further adds to the uniqueness of this unit.
Power is handled by a normal ATX PSU up to 700W in size, and a pair of 30mm fans are installed to ensure no stagnant pockets of hot air form inside the chassis. Surprisingly the Bolt II is about as silent as a PC can get. While in the suite, I was unable to notice any noise at all coming from the device that was running under the flat-screen TV. Digital Storm says that the Bolt II will be priced from $1500 up to $2500 depending on component choices and features.
Related Tags