Drobo has just launched the all new DroboApp platform that delivers new functionality to the Drobo 5N network storage array and provides an easy method for third-party app integration. The platform includes 15 initial apps that offer up a wide range of functionality including media servers, remote file access, cloud backup, and even BitTorrent clients.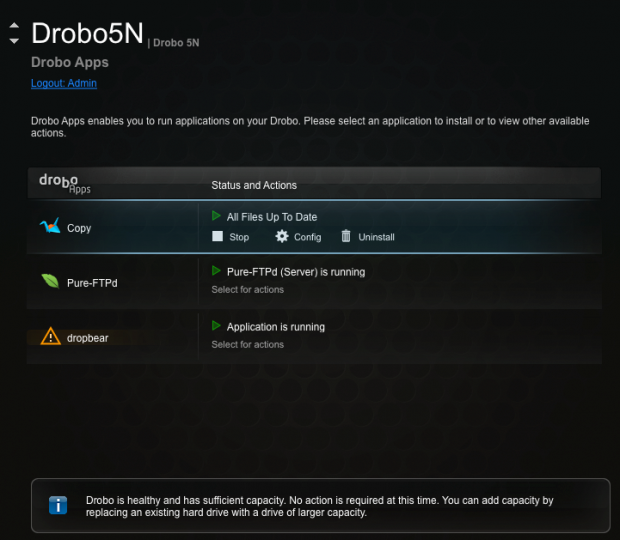 "The Drobo 5N was designed to deliver the best file sharing experience available," said Jim Sherhart, Vice President of Product Marketing, Drobo. "Extending the functionality with fully supported applications including Plex, Barracuda Copy and ElephantDrive demonstrates our commitment to enhancing value for our existing customers."
"Plex is excited about a fully integrated NAS plus Media Server solution for users to easily store, organize and stream their media," said Shawn Eldridge, Vice President of Strategic Alliances. "Given the exponential growth in personal media being generated today, the combination of Drobo and Plex is the perfect way for users to easily organize and play their media on any screen."
"Our Copy file, sync and share platform makes it easy for customers to store, protect, sign and share files from anywhere," said Rod Mathews, GM Storage, Barracuda. "The Drobo 5N is an excellent platform for extending these innovations and delivering easy, affordable and ubiquitous access for Drobo users."
"Our goal is to partner with the leading providers of on-premise storage solutions to make enabling cloud backup, storage and sync as easy as possible," said Michael Fisher, Co-Founder, ElephantDrive. "We know cloud solutions are most effective when coupled tightly with fast, reliable local storage and this integration with Drobo will make it easy for end users to get started."