Everspin and Buffalo lead the way with new ST-MRAM technology
Everspin Technologies and Buffalo Memory pave the way with new SSD featuring MRAM cache.
Published Mon, Dec 16 2013 7:11 AM CST
|
Updated Tue, Nov 3 2020 12:19 PM CST
The future of memory storage took a big step recently with the announcement from Everspin Technologies and Buffalo Memory that an ST-MRAM cache layer has been incorporated into Buffalo's SS6 industrial SSD. This is the first commercially available SSD to utilize persistent MRAM as a cache layer.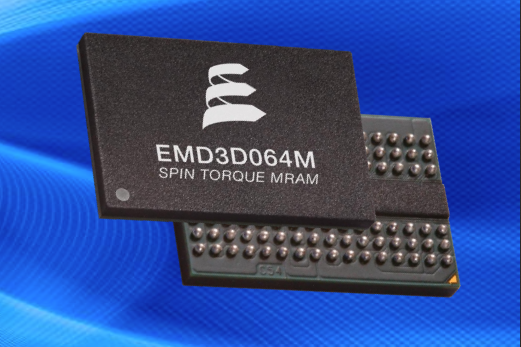 MRAM (magenetoresistive random access memory) is a disruptive technology that looks to change the landscape of memory technology, with many predicting that MRAM will supplant other forms of memory in the near future. In fact, over 20 companies are currently working to develop MRAM products, and mass production from these companies is slated for the 2018 timeframe.
While the industry 'heavies' are 4 years from production, a frontrunner has emerged in Everspin Technologies. They actually have working MRAM in production already, products in the field, and a whopping 600 active patents in their portfolio.
The new MRAM from Everspin falls into the DDR3-1600 family, and though there are timing differences it is fully interface-able with the JEDEC DDR3 spec. Everspin Technologies isn't reliant upon others to build their MRAM, they are currently in production at their own facilities in Chandler, Texas.
MRAM works by storing data magnetically instead of electrically, which allows it to retain all data in the memory during power loss. This provides RAM-like performance characteristics while delivering persistent memory storage. In the case of power outages or unexpected system shutdowns, MRAM solutions can re-power and pick right back up where they left off without reloading the memory. This also allows users to forgo costly periodic check-pointing cycles.
MRAM can apply to a variety of use-cases, with LSI having incorporated it into their RAID controllers and Buffalo having already used 16MB packages on eSATA and USB products. MRAM can essentially remove the requirement for Li-ION batteries and capacitors. This removes a layer of design complexity, and simplifies firmware through the reduction of flushing algorithms on SSD and RAID controllers. Li-ION batteries and super-capacitors also introduce reliability concerns due to their finite lifespans.
We recently spoke with Scott Sewell, the Vice President of Worldwide Sales and Marketing at Everspin Technologies, on the future of MRAM. Everpsin feels that 1Gb density will be the inflection point for mass MRAM adoption. MRAM is the densest non-volatile memory solution on the market. Currently Everspin is in production with 64Mb DDR3-1600 ST-MRAM, and is quadrupling density every 12-18 months. This leaves them closing the gap with DRAM and reaching the 1Gb target in 2-3 years.
As always, the leading edge of memory technology usually occurs in the enterprise space. With mass adoption of MRAM we can expect to see this technology utilized in everything from desktop computers to tablets, mobile phones, and essentially any device that currently utilizes RAM memory.
Though few details are available on the new Buffalo SSD, we know that the SS6 Series is a SATA III SSD and production is currently in progress.
Related Tags