LSI Introduces 12Gb/s SAS MegaRAID Controllers and DataBolt Expanders
LSI unleashes its 12Gb/s SAS offerings.
Published Wed, Nov 20 2013 12:10 AM CST
|
Updated Tue, Nov 3 2020 12:20 PM CST
LSI has announced the release of their new 12Gb/s SAS MegaRAID controllers and their revolutionary new DataBolt expanders at their annual AIS summit. AIS (Accelerating Innovation Summit) is LSI's yearly meeting that plays host to the brightest minds in storage technology.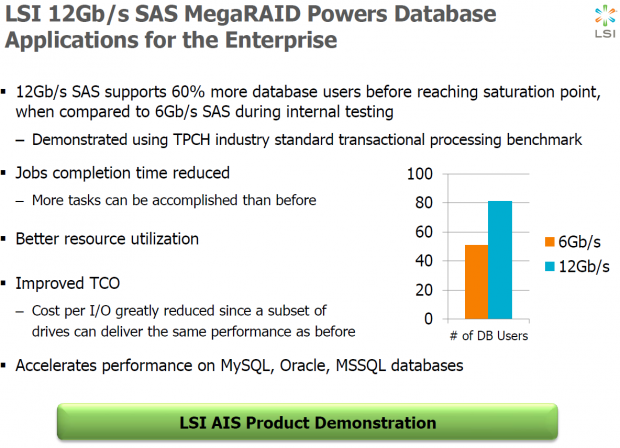 The needs of the datacenter are constantly expanding, and the move to the 12Gb/s SAS specification is required to keep up with the ongoing flood of data. The ability to use faster interconnects, along with lower latency, helps to allow the acceleration of big data and cloud computing.
In a recent TPC-H test, LSI found they were able to sustain a 60% increase in performance and userload during the test. The speed hike also enabled a big reduction in job completion time and better resource utilization. This is just one of many applications the new 12Gb/s SAS controllers will excel in.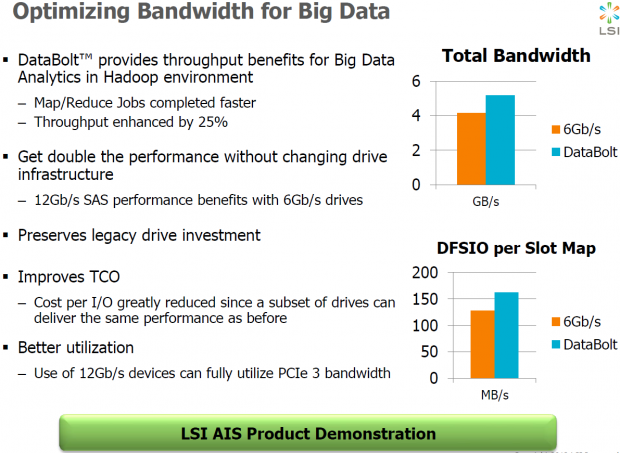 DataBolt is a revolutionary new expander technology that aggregates the performance of two 6Gb/s storage devices and passes the performance back along one 12Gb/s lane. This will essentially allow the connection of twice as many 6Gb/s storage devices to the controller. One of the biggest benefits of DataBolt technology will be the acceleration of existing infrastructure. With large arrays hamstrung by the SAS connection the faster throughput of the 12Gb/s SAS connection will remove bottlenecks.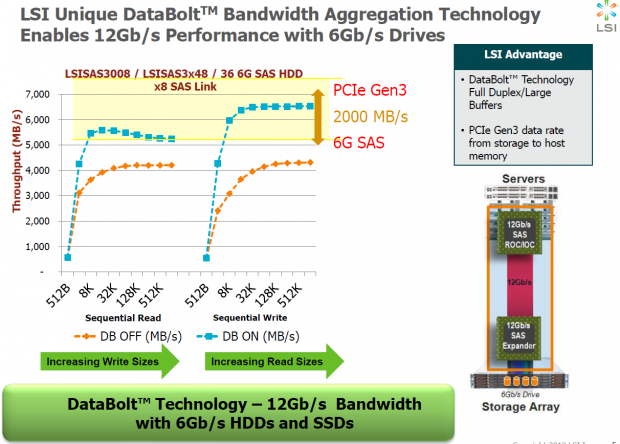 Utilizing DataBolt bandwidth aggregation technology the sequential read speed jumps from roughly 4,100 MB/s to 5,200 MB/s. With sequential write activity, the gains are even more pronounced, reaching a height at roughly 6.6GB/s, the effective limitation of the PCIe 3.0 bus.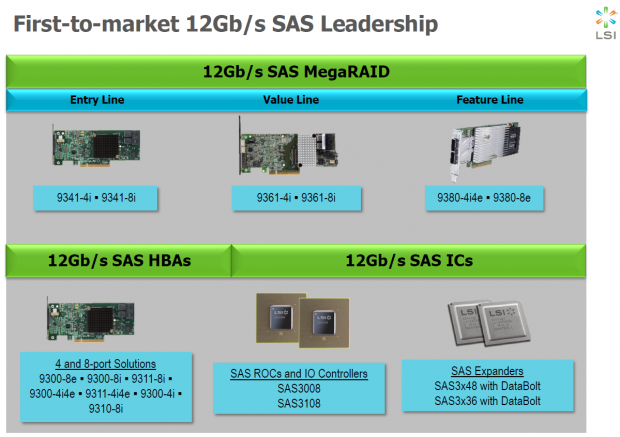 LSI is planning on having 12Gb/s RAID controllers and IC chips available to the market immediately. This will include the entry, value and feature lines. The 12Gb/s SAS HBA's have already been available for several months.
The 12Gb/s SAS ecosystem is growing rapidly, and LSI has several partners that will be using their components, including Cisco, Intel, Huawei, Fujitsu, Supermicro, ASUS, GIGABYTE and Dot Hill. This impressive number of launch-day partners is just indicative of the first wave of integrators to offer the new LSI products.
Related Tags