AMD unveils Gaming Evolved Control Center, makes PC gaming 'easier'
AMD teams up with Raptr to create a PC gaming suite to tweak your settings, also gives out prizes and streaming abilities through Twitch.

Published Fri, Oct 11 2013 3:35 AM CDT
|
Updated Tue, Nov 3 2020 12:20 PM CST
NVIDIA has its own GeForce Experience software suite, which tweaks your PC and in-game settings to provide you with a 'better' gaming experience, and now the Red Team has announced its own software: Gaming Evolved Control Center, which is still in beta.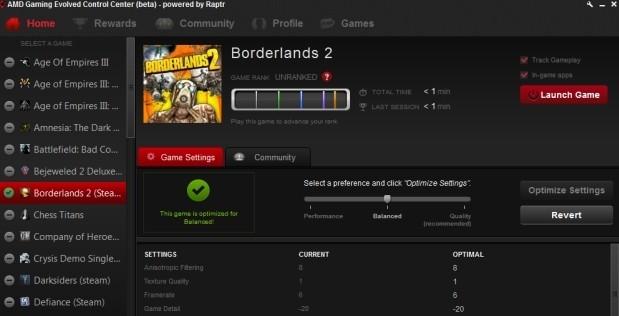 AMD teamed up with Rapr to maek the suite, which offers tools for chat, taking screenshots, and tweaking in-game settings for better performance. Gaming Evolved is heavily spun with Rapr's community data, which determines the best configuration for your PC and games. Rapt's rewards system is mixed in, offering beta access to certain games and free DLC for using the service, which is a nice bonus.
Through AMD's new software, you can stream directly to Twitch, with the added ability of simultaneously watching someone else's broadcast while you're blasting around in another game. AMD says that its new software is designed to "make PC gaming as simple to use as consoles" but I disagree. PC gaming is not meant to be "simple," as it takes away the major difference between consoles and PCs.
I hope AMD don't continue down this route, or else we might not be able to differentiate between AMD-based consoles in the Xbox One and PS4, to AMD-optimized games and using its software. You can try it out for yourself, here.
Related Tags