This week, MSI launched two new mobile workstations, the GT70 20K and the GT60 20J. Both workstations feature NVIDIA Quadro graphics processors and Intel Core i7 processors for adequate power even when on the go. MSI says that the GT70 and GT60 have both been certified by Adobe, Autodesk, and Solidworks.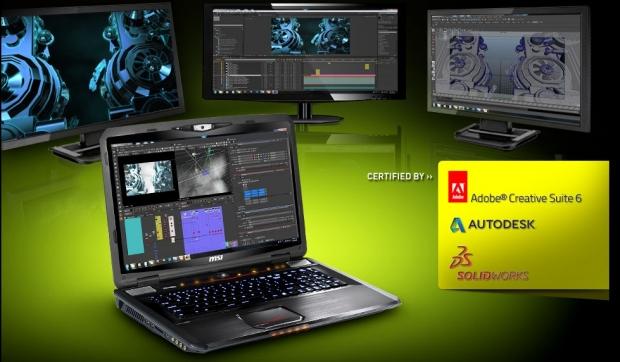 The GT70 features an NVIDIA Quadro K3100M graphics processor and the GT60 sports a K2100M GPU, which have both been designed to tackle the most intensive software out there, including AutoCad Design Suite, Avid Media Composer, Pinnacle Studio 16, AutoDesk Smoke, Siemens NX, PTC Creo Parametric 2.0, and more. Both units possess NVIDIA Optimus technology, which enables designers and engineers to perform simultaneous rendering or structural/fluid analysis on the same system.
"MSI has long been praised for the performance of our gaming laptops, and the new workstations leverage that expertise to deliver the same quality and effectiveness for professionals," said Andy Tung, Vice President of Sales for MSI Pan America Region. "We've successfully combined the power and design of our acclaimed GT70 and GT60 laptops with the performance needed to tackle professional applications.
The GT70 2OK and GT60 2OJ are currently available for $2,599.99 and $2,009.99, respectively, at Newegg, Amazon, Tiger Direct, BestBuy.com, B&H Photo, and Adorama. MSI plans to expand their line of mobile workstations in the following months with a 17-inch K4100M model and a 15.6-inch K3100M model.