Tim Cook says that Microsoft is copying Apple's strategy
Apple's CEO says that Microsoft is copying its strategy, adds that Nokia died due to lack of innovation.

Published Thu, Sep 19 2013 10:28 PM CDT
|
Updated Tue, Nov 3 2020 12:20 PM CST
You know that saying of eating your own words? It looks like Tim Cook is going to get very full, very soon. Apple CEO, Tim Cook, sat down with Bloomberg Businessweek, enjoying a joint interview with head of design, Jony Ive and software chief Craig Federighi.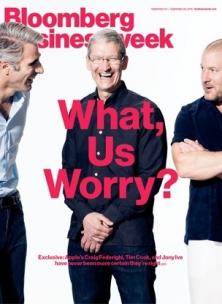 One of the topics discussed was Microsoft's recent acquisition of Nokia's Devices and Services division, where Tim Cook said "everybody is trying to adopt Apple's strategy. We're not looking for external validation of our strategy, but I think it does suggest that there's a lot of copying, kind of, on the strategy and that people have recognized that importance."
Ironically, Cook says that everyone should have their eyes on Nokia, as he thinks that the company is the perfect example "to everyone in business that you have to keep innovating and that to not innovate is to die."
I find this quite a laugh, considering the iPhone 5S didn't really innovate apart from the A7 processor, and Touch ID fingerprint scanner. Outside of these few changes, was there enough innovation? I don't think so. What do you think? Do you think Cook will soon be eating his words? If you look at most of the comments on Facebook, or around the world on iPhone 5S reviews, most people are not that impressed.
Related Tags