Yahoo is continuing its image revamp by continually rolling out new products and redesigning existing ones that have become stale. Today, Yahoo released an update to its My Yahoo service that completely refreshes the personalized homepage.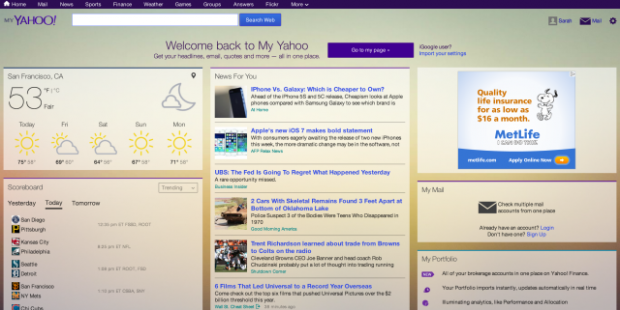 I understand that in today's era of multiple tabs, smartphones, and tablets, the idea of an all-in-one home page seems kind of pointless to some, but there was a time that the homepage ruled supreme. Services like Yahoo, AOL, MSN, and even iGoogle popped up to fill this niche, but they almost all slipped into a stagnant state as tabbed browsing and mobile computing took over.
Yahoo is hoping that its completely redesigned My Yahoo service will once again resurrect the now all but defunct all-in-one home page. With iGoogle nearing its end of life, this does appear to be a smart move on Yahoo's part as Google refugees can equate to big money. Just ask the little-known RSS service Feedly about its increase in traffic since Google Reader shutdown.
Yahoo's newly refreshed My Yahoo allows users to custom tailor their homepage with widgets to access their various email accounts, calendars, stocks, and even sports scoreboards. Weather, Flickr, and and other Yahoo-based content is also available to put into your homepage and the company says that content from around the web can be added. Head over to the source below to check out a new animated GIF from Yahoo that shows how things might work.