Today, Sprint announced that it would be following in the footsteps of its competition by launching its new "One Up" program that will allow its customers to upgrade their phone on a yearly basis with little upfront cost. The new program works much in the same way that T-Mobile's "Jump," AT&T's "Next," and Verizon's "Edge" initiatives work.
Sprint's new One Up program allows customers to pick up a phone with no money down and pay for the device over 24 monthly installments. An average smartphone costing around $650 will cost customers about $27 a month and the remaining balance paid in full on the 24th month. Sprint will allow existing customers still on contract to participate in the service, but they must trade in their existing phones unless they have a two-year upgrade available on their account.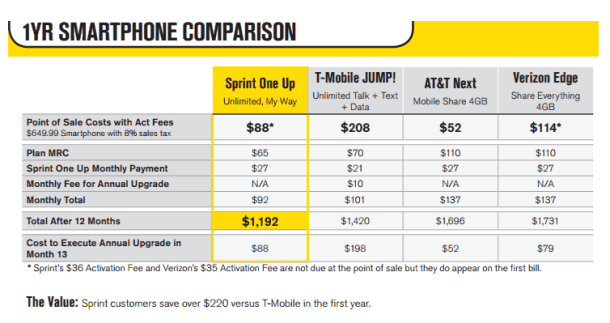 The new One Up program is very similar to T-Mobile's Jump plan in that it allows customers a discount on their service plan if they opt for the monthly hardware payment. AT&T and Verizon were criticized for their versions as they require customers to pay full price for their handset but did not offer any discounts on service. With the new iPhone 5C and iPhone 5S, I think this Sprint waited until just the right time to launch this new program. With thousands of customers wanting to upgrade to the latest iPhone, the new One Up program should see lots of use in the coming weeks.