Maybe this is one of the driving forces behind Microsoft's acquisition of Nokia's Services and Devices division today, in that the Redmond-based company isn't even making $10 per Windows Phone-based Nokia device sold.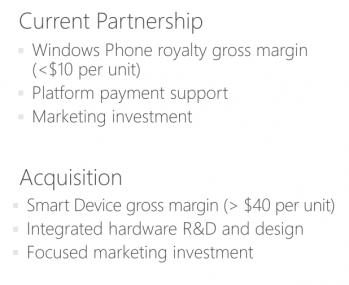 Part of it's "rationale for the deal", Microsoft revealed that under its current deal with Nokia, it receives less than $10 per phone in software royalties. This would mean that if Windows Phone were to overnight, somehow, with maybe a wish from a genie, become the number one mobile OS in the world and sell millions of handsets through Nokia, it wouldn't exactly equal huge money for Microsoft.
So while people might be looking at Microsoft taking a big risk acquiring the Services and Devices division from Nokia, in the long run it obviously hopes it'll help them. Microsoft has also said that Nokia's Windows Phones have a gross profit margin in the range of $40 per phone. The Redmond-based software giant is also signing a rather large cheque to Nokia for "platform support", which is kinda like a bribe so that Nokia goes all-in with Windows Phone instead of Android.
The next 12-18 months should be an interesting time for the mobile world, and as the Mobile Devices Editor of TweakTown, I can tell you that I'm incredibly excited.