What a treat! I get to write two SpaceTT posts in one day! Stargazers across the northern hemisphere are witnessing a rare occurrence happening right before our eyes. A nova in the constellation Delphinus has brightened over the last couple of days to a magnitude 5.0 and has allowed naked eye viewing of the astronomical phenomenon.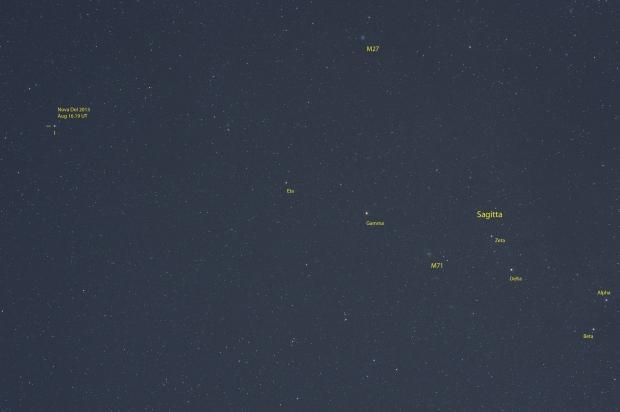 In the upper left-hand corner of the image above, you can see Nova Del 2013 appearing as a large star shining brightly in a sea of fainter stars. What you are actually witnessing is a binary star system in which the larger star is having its hydrogen stripped off by the much smaller white dwarf star. As is fresh layer of hydrogen grows thicker and more dense, the lower layers erupt in a runaway hydrogen-fusion reaction. As the reaction takes place, the star grows much hotter and brightens in the night sky.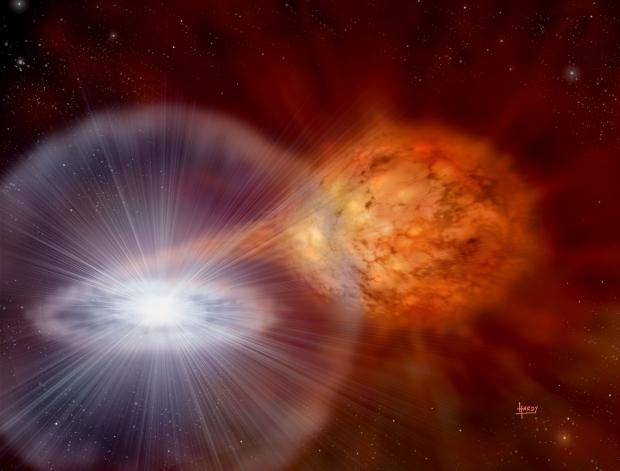 To get an idea of how large this explosion is, one can simply imagine what a hydrogen bomb the size of the Earth would look like. The nova was discovered on August 14 by astronomer Koichi Itagaki of Yamagata, Japan, around 2PM EDT. It was originally listed as a magnitude 17 in brightness, and has since grown 100,000 times in brightness. The event will most likely only last for a few more days, so if you have clear, dark skies, you might just be able to see it with your naked eye. Tossing in visual aid from binoculars or a telescope will greaten one's chance at observing the nova.